Learn How to Repair, Maintain, & Play Your Guitar
Over 500 guitar repair, guitar building, and guitar care & maintenance guides. Get started learning how to fix your guitar and make it play great!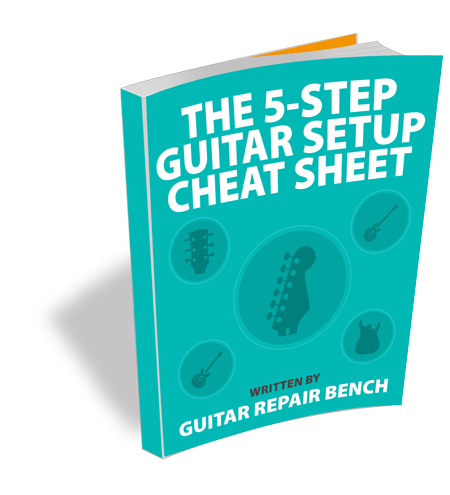 Guitar Setup Guide
---
Enter your email below to sign up for the newsletter and get a free guitar setup cheat sheet. Over 20,000 people have used this guide to learn how to maintain and care for their guitars.

Don't Know Where to Get Started?
Here are a bunch of great resources to check out first!
Welcome to Guitar Repair Bench
The best place to learn how to repair, building, maintain, and play guitars online!
Guitarrepairbench.com is dedicated to providing the best instructional articles about guitar repair, maintenance, and guitar building on the web, so you can repair your own guitars. Being a luthier myself, I know how difficult it is to find quality information and instruction about guitar building and guitar repairs when you first start working on guitars.
There is no reason why you need to bring your guitar to your local repair shop for a simple setup. Even if you think you are not handy enough to repair your own guitar, I believe every guitarist should at least learn how to take care and maintain his guitar. I have written many articles and instructional guides for novice guitar players looking to make their guitar play smoother as well as articles for advanced guitar technicians looking to learn new techniques. My articles cover every guitar repair subject from guitar intonation and nut replacement to full guitar setups.
I have also written a large about of instructional guides for building both electric and acoustic guitars that will be coming soon to guitarrepairbench.com. Whether you are a novice or intermediate luthier, you will be able to learn some new techniques from my guitar building articles. Coming soon, I will have articles that walk you step-by-step through building every aspect of electric guitars and acoustic guitars. In addition to the guitar repair and building articles, I have compiled numerous resources for everything from guitar parts and guitar repair tools to resources on how to start your own luthier shop and online guitar lessons at guitar repair bench.
If you have any questions about guitar repairs, my articles, or suggestions for new articles, please feel free to email me.
Guitar Repair Resources
Here are a variety of good resources to find guitar repair/replacement parts and other instructional guides on how to repair and build guitars.
Guitar Replacement Parts
---
Guitar Repair Bench E-Books
---
Guitar Building and Repair Books: