Here is a list of comprehensive books that cover every subject about building electric guitars from choosing guitar wood to spraying guitar finish.
Building Electric Guitars:
How to Make Solid-Body, Hollow-Body and Semi-Acoustic Electric Guitars and Bass Guitars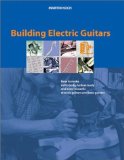 I highly recommend this book. Out of all of the instructional books that I have seen on electric guitar building, this is by far the most informational. Everything from the first steps of design to the final set-up of of solid-body, hollow-body and semi-acoustic electric guitars is covered step by step in this book.
It contains a section about winding your own pickups and another on active guitar electronics. The last chapter is about visits to Steve Jarman Guitars (UK), Sadowsky Guitars (US) and PRS-Guitars (US)
Buy This Book on Amazon!
---
Make Your Own Electric Guitar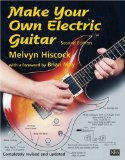 The electric guitar is the musical instrument of the last 30 years. In that time, names like Fender and Gibson have acquired an aura–and a price–that are truly remarkable. For some, however, it is not enough to buy a guitar–the challenge of designing and hand-making a unique, customized instrument is the dream. Since 1986, these people have turned to one book: Make Your Own Electric Guitar.
Written in a clear, relaxed style, it covers every facet of guitar design and construction, as well as electronic theory and practice, and full woodworking and wiring techniques–all supported with plenty of photos and diagrams. Now in a revised and expanded edition, Make Your Own Electric Guitar will enable any musician or enthusiast with basic woodworking skills to create a uniquely valuable instrument.
Buy This Book on Amazon!
---
Build Your Own Electric Guitar: Complete Instructions and Full-Size Plans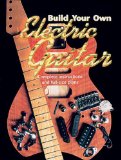 Every guitarist dreams of owning a high-quality custom-made instrument, but the cost is often prohibitive. Building your own guitar is an extremely rewarding and satisfying means of realizing your ambition without making a huge financial outlay. In Build Your Own Electric Guitar, expert information on design, wood selection, hardware, tools, and techniques allows you to create your own personalized instrument, and full-size plans are included for ease of use.
All phases are explained in clear detail, with step-by-step color photos, diagrams, and instructions included for each of the procedures. Written by a master luthier, this outstanding guide takes the mystery out of making a guitar.
Buy This Book on Amazon!
---
Constructing a Solid-Body Guitar: A Complete Technical Guide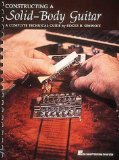 Whether you're a musician or a woodworking enthusiast, you'll thoroughly enjoy Roger Siminoff's book, Constructing A Solid Body Guitar. This 64-page manual uses over 150 photos, several illustrations and four life-size blueprints to assist the reader in choosing the proper materials and tools, as well as using the correct skills and techniques to produce a beautiful handmade instrument that doesn't look handmade at all! Plastic-comb bound. 9 inch. x 12 inch.
Buy This Book on Amazon!
---
Electric Guitar Construction: A Guide for the First-Time Builder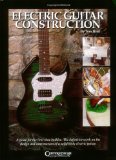 What on earth would make someone want to build an electric guitar from scratch? Can't you just buy one cheaper? A.: Well sure, but with this definitive book on the subject as your guide, you can create your own axe masterpiece, with the precise finish, the exact pickups, and the custom hardware you've always wanted.
Plus, you'll have the indescribable satisfaction of knowing you created something cool out of nothing. And that sure beats buying off the rack! Organized logically from start to finish, this helpful guide will assist you every step of the way; from the design and planning stage to the final setup, each step in the process is written about in abundant detail, with hundreds of photographs, and special full-color sections on wood selection and finishing. Also includes a glossary of terms, an index of materials suppliers, and much more!
Buy This Book on Amazon!
---
Make Your Own Electric Guitar and Bass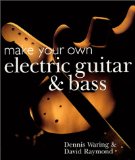 Do-it-yourself project books will always be popular with library patrons, and the "build your own guitar" field has gotten somewhat crowded. As useful as its predecessors, this work should be discussed in terms of its distinguishing features. Besides quality of production (it's printed entirely on heavy paper stock and features full-color photos throughout), it excels in the simplicity of its presentation: the instructions are logical and well detailed, and they promote use of common tools and easily acquired materials.
In addition, the authors, both craftsmen and musicians, include methodology for constructing an electric bass guitar, which differs in degree from a six-string guitar and is usually not covered in books of this nature. Lastly, there is its affordability. Highly recommended for all woodworking collections. Eric C. Shoaf, Brown Univ. Lib., Providence, RI Copyright 2001 Reed Business Information, Inc.
Buy This Book on Amazon!
---
Guitar Shop — Setup and Maintenance : Handy Guide
Learn what every guitarist needs to know about caring for his or her instrument. This 48-page book covers the proper way of changing a string, setting the action, reslotting the nut, proper tuning techniques, maintaining the finish, adjusting the neck and much more.
Loads of photographs make the instructions easy to follow.
A book every guitarist should own
Buy This Book on Amazon!
---
How to Build Electric Guitars:
The Complete Guide to Building and Setting Up Your Own Custom Guitar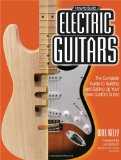 In the past few years the market for electric guitar kits and parts has exploded. For every two enthusiasts, there are four opinions on how properly to fill woodgrain. In this book, Will Kelly cuts through all that noise and shows how, with a little patience and some inexpensive tools, the average person can turn a modest investment into a gig-worthy instrument and perhaps even a lifelong hobby.
Kelly presents guitar-building in a progressive fashion, beginning with a simple Stratocaster-style kit with a bolt-on neck and continuing on to a "relic'd" Telecaster-style build, two Gibson-style set-neck models, and a custom double-neck mash-up. Because each build is more involved than the previous, the reader builds on his or her skill set and acquires only the tools necessary for the reader's level of interest. Kelly shows how to apply finishes, choose and install hardware, wire electronics, execute the final assembly, and set up the finished guitar for proper action and intonation.
---
Electric Guitar and Bass Design:
The guitar or bass of your dreams, from the first draft to the complete plan
Are you ready to design the ax of your dreams? Unlike other DIY guitar making sources (which deal with woodworking, mostly) this book focuses on how to achieve astonishing looks, excellent playability and a killer sound. Written collaboratively with top luthiers from the U.S. and Europe, this inspiring book covers in depth each aspect of electric guitar design, plus topics not found on other sources, like: –
How to design a classic, how to design a radical – Thousand-year wisdom applied on Stratocasters and Les Pauls – Secrets of sustain – How to create a well balancing guitar – Ergonomics – How to choose, match and place pickups – Control design – The 4 laws of wood selection … And much more. These 220 pages will have you making sketches from the first read!
---
Build Your Own Electric Guitar: Custom Guitar Assembly Made Easy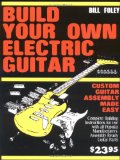 ---
Guitar Repair Bench E-Books
Guitar Building and Repair Books: