Electric guitar are fun to build and play, buy you need an amp to play all of your custom guitar through. Why would you want to play your custom guitar through anything but a custom amp? Here are a few books about amp construction building and the history of guitar amplifiers.
Building and Repairing Guitar Amps
A History of Guitar Amps and Amp Builders
Building and Repairing Guitar Amps
Guitar Amplifier Handbook – Understanding Tube Amplifiers and Getting Great Sounds
A guitar amp is as responsible for the actual sound of an electric guitar as the guitar itself. The Guitar Amp Handbook takes players — whether novice, experienced amateur, or professional — inside the amplifier to help them better understand the magic of that mysterious, often-neglected box that pumps out all the tone.
This book guides guitarists in selecting the best amplifier for their style of music, and helps them set up that amp to sound its best, maintain and modify it, and ultimately to craft the most responsive instrument possible from this "other half" of the sound chain. Tutorials, parts lists, basic maintenance, and diagrams for building a small range of classic-style tube amps are included. Also featured are tricks for getting "loud" guitar sounds at home without waking the neighbors and tips on how to get the unit that best suits your sound and technique without overspending on unnecessary features.
Buy This Book on Amazon!
---
The Tube Amp Book – Deluxe Revised Edition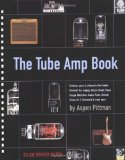 Already known as the bible of tubes and tube amps, The Tube Amp Book is now even better. This deluxe revised edition features 40 percent new material, including two CDROMs of circuit diagrams plus a dramatically improved design and page layout.
The book's technical tips, in-depth electronic specs and explanations, rare schematics, hundreds of full-color plates, illustrations, charts and tables make it a must-have for the legions of tube-tone fanatics.
Buy This Book on Amazon!
---
Ultimate Tone, Volume I
Modifying and Custom Building Tube Guitar Amps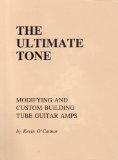 This is the book that jump-started the boutique tube guitar amp business. Learn the truth about tube preamp design and modification; see how tube power amps work and can be made more reliable; see how reverbs and effects loops work and better ways to configure them; learn why some amp brands are easier to service and to mod than others; see how simple switching circuits are but how capable they can be.
Tube data for the common types used in guitar and bass amps is provided, along with a discussion of stage set-up and player ergonomics. Spiral bound, 395 figures. 368 pages,
Buy This Book on Amazon!
---
Design and Construction of Tube Guitar Amplifiers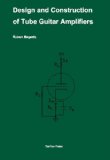 Full details can be found at translucidamps.com. Written for musicians, amp builders, and tube audio enthusiasts, Design and Construction of Tube Guitar Amplifiers provides a complete yet easy-to-understand explanation of how to design, modify, construct, and test tube amps. Profusely illustrated, the book uses graphic aides and basic algebra and scientific principles to teach you everything you need to know to fully understand tube guitar amp technology from both technical and musical perspectives.
Chapter 1 introduces basic audio engineering concepts used in tube amps, which are used throughout the book. Chapter 2 teaches you how to design and interconnect all of the five stages in a basic amplifier. You also learn how changes in the design of a stage affect its performance. Chapter 3 discusses distortion, overdrive, tremolo, reverberation, and effect loop design. Chapter 4 shows you how to select the components you need to build an amp, how to mount and interconnect the components, and how to test, adjust, and troubleshoot an amplifier.
---
How to Make 9 Volt Portable Guitar Amplifiers:
Build your very own mini boutique practice amp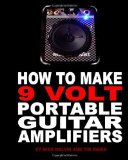 Learn step by step how to completely build a custom, boutique 1 Watt (9 Volt) guitar amplifier with instructions on how to wire all of the potentiometers, capacitors, fuses, resistors, switches, speakers, ground wires, hot wires, output jack, and audio chips. This book will also tell you how you can customize your amp so you can get the sound you want. Your amplifier cabinet, speakers, even knobs can be customized, and we will tell you where to get all of the parts from for cheap.
This book includes over 180 pictures and diagrams, and even comes with a bonus website with periodic updates, which will tell you how to build a bigger amp, use a 9V AC adapter instead of a battery, and more !!! What can you build with this ebook? The basic amplifier project in this book allows you to easily build an amplifier with an on/off switch, volume control, distortion on/off switch, gain control, and LED indicator light. Build the amp and install it with an 8 Ohm speaker (1 Watt or higher) in the cabinet, or box of your choice. Wood, metal, plastic, glass, and even cardboard can be used. All will yield a totally different tone. You can build this amp in a breadboard, or on a PCB board. Use a 9 Volt battery, or build a 9 Volt AC adapter (located in the website with updates that accompanies this book).
---
Designing Tube Preamps for Guitar and Bass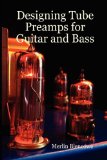 Designing Tube Preamps for Guitar and Bass is the world's first comprehensive guide to the design of tube-based preamplifiers, specifically for musical instrument use, in a single volume. From the input to the phase inverter, this book discusses the inner workings of every part of a conventional guitar preamp, including the use of triodes, pentodes, tone controls, effects loops and much more.
Eliminating all 'guess work' and 'audio myths', this book reveals the science behind good tone. Not intended for the beginner, it brings the intermediate-level circuit designer to the advanced level, with over 200 circuit diagrams and figures, as well as new research into the distortion mechanisms of tubes and unique tone manipulation techniques. An essential reference text for any amp enthusiast!
---
All About Vacuum Tube Guitar Amplifiers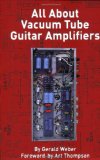 Explores all manufacturers and de-mystifys the inner workings of tube amps. All new material from the amp guru Gerald Weber. Tons of empirical data that de-mystify the inner workings of tube amps to help you get the most from your amps! You will learn how tube amps work, electronic concepts, how different types of tubes work, the anatomy of a gain stage, how to resurrect a dormant tube amp, how to do a cap job correctly, modifications to preserve your amp, how to voice an amp and tune the reverb, how to build an amp, recover a cabinet, re-grill a baffleboard, how to buy a vintage amp; and common wiring mistakes and idiosyncrasies found in vintage amps.
And you get a couple of hundred pages of Questions and Answers – sectioned off into Fender, Gibson, Marshall, Danelectro/Silvertone, Vox, Other American, Other British and Miscellaneous Topics. You will learn the six dreaded tone killers and how to avoid them, the top ten amp-tone tips, and how to fine-tune your entire amp setup. In short, you will have the knowledge needed to squeeze your amp's performance from lame to insane.
---
Building Valve Amplifiers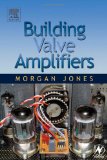 If you actually intend to create, modify, restore or repair tube audio equipment, I would highly recommend purchasing Building Valve Amplifiers, even if you are seasoned by many years of practical experience. I am convinced that all readers will be amazed at the quantity of new useful knowledge it contains. Audio Ideas Guide magazine This book can be thoroughly recommended for experienced builders and novices alike. Electronics World
Building Valve Amplifiers is a unique hands-on guide for anyone working with tube audio equipment – as an electronics experimenter, audiophile or audio engineer. Particular attention has been paid to answering questions commonly asked by newcomers to the world of the vacuum tube, whether audio enthusiasts tackling their first build, or more experienced amplifier designers seeking to learn the ropes of working with valves. The practical side of this book is reinforced by numerous clear illustrations throughout. As well as the design and build of new valve amplifiers, complete with constructional projects, Morgan Jones introduces the modification, fault-finding and repair of new and classic equipment. The companion volume to Building Valve Amplifiers, Morgan Jones's Valve Amplifiers, has been widely recognised as the most complete guide to valve amplifier design written for over 30 years. It introduces the art of valve electronics to the newcomer and provides ready-made practical circuits that will be of great value to enthusiasts and professional audio designers alike.
---
Tube Guitar Amplifier Essentials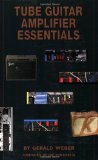 From the amp guru, and columnist for Vintage Guitar magazine, comes a future classic that features more than 60 easy-reading chapters de-mystifying the complex world of tube amplifiers.
Over eight years in the making, it covers the basic knowledge and the practical steps to work on this type of amplifier, the preferred type of amp for millions of guitarists and technicians.
---
How to Service Your Own Tube Amp:
A Complete Guide for the Curious Musician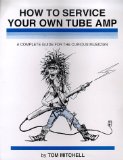 A well organized and easy-to-understand approach to guitar amplifier repair covering basic electronics, reading schematics, understanding tubes and transformers, tube biasing and use of test equipment.
Also provides 10 troubleshooting flowcharts, voltage charts for typical amplifiers, and many modifications that you can do yourself.
---
A History of Guitar Amps and Amp Builders
Jim Marshall the Father of Loud:
The Story of the Man Behind the World's Most Famous Amp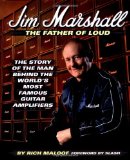 In the early 1960s, a handful of brash British kids needed a new sound for a new kind of music. They marched into a music store in their blue-collar town and asked the gentleman behind the desk to build them an amplifier with leg-shaking power and jaw-dropping tone. So he did.
This first-ever biography tells the story of Jim Marshall, founder of Marshall Amplification and creator of guitar amplifiers that defined the sound of rock and are prized by rock guitarists of every age and style, including Jimi Hendrix, Eric Clapton, Jeff Beck, Jimmy Page, and Bruce Springsteen. Forty years after Marshall sold his first JTM45, three generations of guitarists and fans still revere the name. Highlights in Marshall history, images of amp anatomy, details about famous players' preferred models, and testimonials from guitar stars round out this engrossing success story.
Buy This Book on Amazon!
---
Fender Amps: The First Fifty Years
Includes detailed model features and specs, rare catalog reprints, classic advertisements, endorsee promo photos, and hundreds of close-up photos of these American beauties.
Includes a 40-page full-color section (complete with a 2-page pullout group shot.
Buy This Book on Amazon!
---
The Peavey Revolution: Hartley Peavey:
The Gear, The Company and the All-American Success Story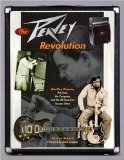 Known for his plain-speaking style and hard-driving business ways, Mississippi native Hartley Peavey pursued a dream that started in his teen years and developed into a musical-instrument dynasty. Peavey's vision was to build top-quality instruments that plain folk like him could afford, and through his ambition, creativity, and hard work he created one of the leading companies in the music and sound industries.
The Peavey Revolution tells the story of 40 years of persistence, passion, and personal travail, often in Hartley's own colorful words. Hartley once envisioned his future success, and this book tells how that prediction came about.
Buy This Book on Amazon!
---
Music Man: 1978 to 1982 (And Then Some!): The Other Side of the Story
Legendary for their construction and longevity, Music Man amps have earned the trust and respect of musicians worldwide.
The company was the brainchild of industry vets Leo Fender, Forrest White, and Tom Walker.
This book examines the latter – the company's "genius chief pilot/navigator" – particularly during the productive epoch from 1978 to 1982.
Buy This Book on Amazon!
---
Guitar Repair Bench E-Books
Guitar Building and Repair Books: