Finishing your guitar can be really tricky. Here are some helpful guitar finishing books that I have found.
Guitar Finishing Step-by-Step
The definitive book for finishing guitars and fretted instruments.
Learn from the pros: materials, equipment and techniques, plus three dozen recipes for famous finishes.
This book helps give you the confidence to finish new instruments, refinish old ones, and perform flawless touch-ups.
Buy This Book on Amazon!
---
Tauntons Complete Illustrated Guide To Finishing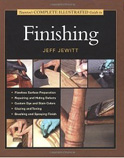 With scores of color photos showing in medias res finishing work and dozens of carefully composed illustrations showing angles, strokes and tools, this latest entry in Taunton's guide series should give even the most amateur aspirant a shot at sophisticated wood finishing effects. Jewitt, a Cleveland-based refinisher who runs his own business, is the veteran of two previous books, Hand-Applied Finishes and Great Wood Finishes.
Here, he uses his expertise to introduce would-be home finishers to everything from the right brushes and spray guns ("conventional" v. "HVLP," or High Volume Low Pressure), to the proper techniques for sanding molded edges by hand, to the difference between glazing and toning. The book is intelligently laid out: no page is ever too busy, but each spread contains enough information to take readers through a full step of a process so that they don't have to drop whatever tools are in hand to flip a page. Well paced and comprehensive, Jewitt's book is a valuable resource for neophytes and pros alike. Copyright — Reed Business Information, a division of Reed Elsevier Inc. All rights reserved.
Click Here to Buy!
---
How to Create A Factory Guitar Finish With Just A Couple Of Spray Cans!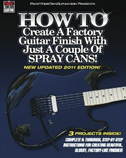 7 years ago, PAINT YOUR OWN GUITAR came along and completely revolutionized how easy it is for anyone to paint their own guitar, and to achieve amazing results! This newly-updated edition of our very first book contains all-new projects. The book now focuses on one-color finishes, so two new, one-color projects are featured. However, with the release of the PAINT YOUR OWN GUITAR vinyl masking, we felt it was important that we address and show at least one project that used vinyl masking. So, within this book, we show a new twist on an old method.
The vinyl masking truly makes the most complicated and tricky designs very simple to do, and cuts hours off of your prepping and mask-cutting time. This book is still the "BIBLE" for any do-it-yourselfer who wants to learn how to paint their own guitar. In fact, there is no other method that is as fool-proof as what we teach. Thousands of people with absolutely no experience have done the impossible and achieved phenomenal results using the PAINT YOUR OWN GUITAR Step-By-Step Method and painted their DREAM guitar! So, what about you? ARE YOU READY TO PAINT YOUR DREAM GUITAR?
Click Here to Buy!
---
A Complete Introduction To Airbrushing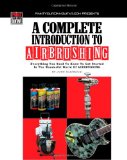 If you're interested in getting started in the wonderful world of airbrushing, 'A Complete Introduction To Airbrushing' has been written to not only put you on the correct path to understanding what you'll need to get started, more importantly, the book will educate you on what to buy and what NOT to buy – at least, initially – and, in effect, you will not only save time, but money. Written by veteran airbrush artist and creator of the MUSCLEHEDZ(r) Cartoon Series, John Gleneicki, he confesses that when he first began airbrushing, many of his initial purchases were simply not good ones.
This was as a result of him not knowing what he really needed. John does his best to educate you and to describe the different types of illustrative work and which airbrushes, compressors, and paints work with that style of work. Understanding what direction you want to go in is what'll lead you to making good purchases from the get-go, and saving you from wasting your hard-earned money. The book goes into detail on such topics as: the different types of airbrushes, small spray guns and detail guns, the different kinds of compressors, airbrush paints, airbrush maintenance, accessories, and more. We even show you simple exercises you can do to practice – to help your hand/eye coordination. 'A Complete Introduction To Airbrushing' gives you just the right amount of information, without overwhelming you with info overload. Just the most important aspects of all of the topics are covered and John never talks over your head. Everything is easy to read and easy to understand. This book is a MUST BUY for the airbrush artist ready to begin his journey into the world of airbrushing!
Click Here to Buy!
---
How to Paint Multi-Colored Stripes!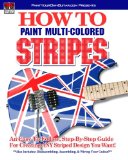 PAINT YOUR OWN GUITAR, the "Do-It-Yourself, Guitar-Finishing Experts," have developed an easy-to-follow, step-by-step method that teaches people of all skill levels how to properly and professionally paint their own guitar using nothing more than ordinary spray cans. That's right – no expensive equipment necessary! You're painting your own guitar and getting professional results using spray cans! For over 6 years, PAINT YOUR OWN GUITAR has taught thousands of first-timers, beginners, and intermediates how to paint their dream guitar at a fraction of the cost by educating them and giving them the confidence they need to do it for them self.
Their step-by-step system leaves NO stoned unturned. Throughout each step, the book explains in vivid detail, what to do and what NOT to do. You don't move forward until you've done each step properly – it's as simple as that. So, no matter your experience or skill level, if you follow each step as they've laid it out for you, you cannot go wrong! 'HOW TO Paint Multi-Colored Stripes' is designed to teach you how to create virtually any striped design you could think of. Although they feature a Union Jack theme in the book, once you see the method in which they create their design, you can apply the principles of what they do to create any design you want.
Click Here to Buy!
---
Guitar Repair Bench E-Books
Guitar Building and Repair Books: