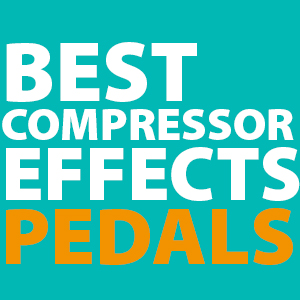 Finding the best compressor pedal that will give you the sound looking for isn't easy. There are so many different guitar effects pedals and companies to choose from, it's almost impossible to settle on a single pedal.
That's why we wrote this review. We compare all of the top-rated guitar compression effects pedals out there right now, so you can get a better feel for which stomp box fits your style and the tone you are looking to achieve.
---
Ultimate List of Top Compressor Effects Pedals
Here is a list of the best compressor pedals to add to your guitar effect pedal board to get that classic sustainer sound.
---
TC Electronic HyperGravity Compressor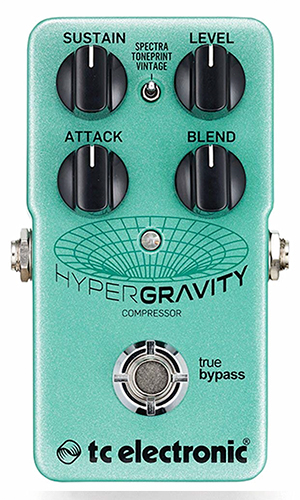 This lightweight digital compressor is great for producing a wide variety of sounds due to its 3-band compression setup. What this setup includes is a TonePrint feature which allows you to either choose a preset or make one from scratch using an app, along with its two standard presets – Spectra and Vintage.
It also has four knobs for Sustain, Level, Attack and Blend that go really well with the standard presets and with a few minutes of fine tweaking you can get your guitar sounding much better than it used to.
Pros and Highlights:
TonePrint – The TonePrint option is by far the best feature of this product mainly because like I said you can make your own sounds by using the TonePrint app on your phone. It's fun to use and experiment with all of those different sounds.
Price tag – Considering what you are getting for the price of a little over 100$ bucks, this pedal is super affordable and definitely one of the cheapest on this list.
Cons and Potential Flaws:
Gain – The only downside of this compressor pedal is that the standard presets (Spectra and Vintage) do produce a lot of gain in sound which can result in a hiss, but with fine tuning, this can be resolved, so don't worry, you will just need some time to get used to.
Bottom line:
You can't go wrong with this pedal considering the price and its features, the sound quality is good, the casing is well made and it's just a good all-around standard compressor pedal.
---
Wampler Ego Compressor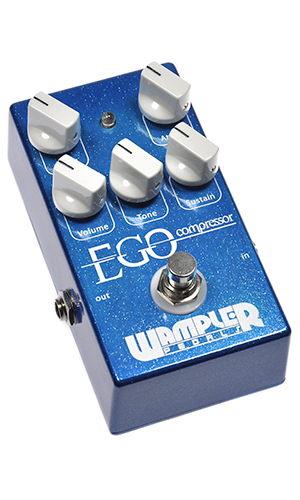 This beautifully hand-made pedal is not only good-looking but well equipped also with five knobs that offer you to tweak the Volume, Sustain, Tone, Attack and Blend. Not only that, it has true-bypass relay footswitch that bypasses the signal when the pedal is off.
The pedal makes the sound transparent, meaning it boosts up the effect but doesn't change the sound, and also brings a nice clean tone to the overall sounding of your guitar which all in all gives you the control of the sound and is easy to tune and adjust. Also, combining the film capacitors and resistors it offers an amazing response to any changes made to the sound.
Pros and Highlights:
Quality – The quality of the casing which is quite durable, but also the sound that it produces are both perfect for any guitar player.
Versatility – It offers a wide range of sounds which can all be produced by simple adjustment of the knobs which is quite easy to master.
Amplifying – It's just amazing how every sound you make on this pedal can be heard clearly without any distortion and hiss; just raw amp.
Cons and Potential Flaws:
Bottom line:
There's no doubt about this pedal and its ability to create such clear sounds which don't get altered, but instead, they get highlighted and are sort of kept right in that sweet-spot, making your guitar sound much cleaner and just overall better.
---
Empress Effects Compressor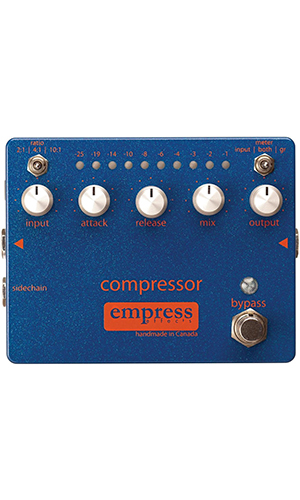 This sturdy All-analog single path pedal offers full control of the compression with its five knobs which are used for Input, Output, Attack, Release, and Mix. It also has three compression ratios allowing you to finely tune and find just the right effect you want.
The compression itself is quite transparent but you can also tweak it to squash the sound. Topped with a wet/dry mix knob that allows you to parallel the compression and you have yourself a top-notch pedal for literally any guitar pedal chain.
Pros and Highlights:
Sturdiness – As I said, it's quite durable and will surely last for years as it doesn't mind being kicked around.
Sound quality – The quality of the compression is overwhelming creating some of the best sound effects that can be produced by any guitar.
Effects – Not only does it make great-quality effects but it's also easy to adjust and once you find the right sound you want you can keep it that way, so you don't need to tune it every time you plug it in.
Cons and Potential Flaws:
Price – Yes it is a bit pricey, but overall what you pay is what you get, and if you don't mind paying a little more you won't be disappointed.
Bottom line:
A great compressor pedal for someone who is willing to pay a higher price for a high-end product; it's easy to adjust, shock resistant and in the long run will serve you better than most commercial pedals on the market.
---
JOYO JF-10 Dynamic Compressor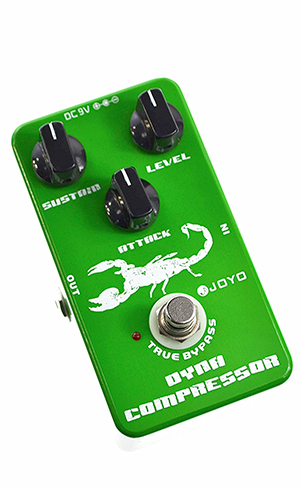 A simple but quite unique pedal that features a true bypass which minimizes tone loss and equipped with three knobs for Sustain, Level and Attack offering you elementary but straightforward tuning options.
It adds a lot of gain to the sound; it's dynamic and responsive so you feel in control of your tuning and really giving you the option to feel out certain tones. It's great for beginners and also for players who just want simple features at a low cost.
Pros and Highlights:
Price – With the price of just 31$ this surely is as cheap as it gets, but don't let the price fool you, it really is a great pedal in terms of both quality and durability.
Weight – You can literally put it in your pocket and take it anywhere, plus it's not that heavy but it's also very sturdy.
Quality – What you pay is what you get, but this pedal surely has outdone itself in terms of sound quality.
Cons and Potential Flaws:
Not a lot of options – Yeah, I know, it's not as versatile as other pedals but still it's a great choice if you are looking for simple sounds and not a lot of adjusting.
Bottom line:
This super cool and affordable pedal can go pound-for-pound against even the more pricey pedals as it has great features that come with it. It's lightweight, the sound quality is good and to top it all it's quite easy to find just the right tune with simple tweaking.
---
Xotic SP Compressor Pedal
It's small, simple and compact but offers a lot of power – the Xotic Sp is really a high-end pedal despite its lack of features. Sure it only has two knobs for Volume and Blend but those aren't its only features if you look at its ability to control the amount of compression you put in and also doesn't lose your playing dynamics the more you use it like other standard pedals.
You can use it for soft and clean sounds and also for strong and rugged effects depending on your taste but overall it provides enough power to your guitar to make it sound extremely better than most pedals with similar features.
Pros and Highlights:
Size – Quite compact and doesn't take a lot of space but knowing that try not to lose it at a concert or something.
Power – This little guy sure does pack a lot of power despite its size and you get a lot of gain on your effects but also you can get that clear and fine tone you're looking for.
Versatile – You would be surprised what you can do with just two knobs.
Cons and Potential Flaws:
Tuning – It's not easy to tune it and the sound can sometimes come a bit distorted but once you get the hang of it I'm sure there will be no problem.
Bottom line:
A great pedal for someone who knows what they are looking for and knows what he's doing, and after some fine tuning you can really hear the difference between this one and other standard pedals.
---
Electro-Harmonix Soul Preacher Compressor/Sustainer Pedal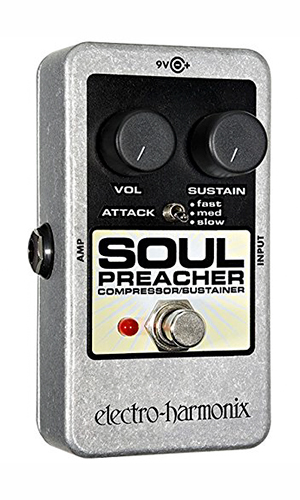 This two-knob (Volume and Sustain) pedal offers a quite clean and precise sound which goes well along with a system of three selected Attack modes. The modes – Fast, Medium and Slow, give you the feeling of being in control of the overall sound it produces and fits perfectly in your pedal chain.
It's quite simple to use yet it has great sustain that lasts very long and compression for generating a lot of noise on the effect. It doesn't change the dynamics of your playing but instead, it gives it clearer and enhanced sound.
Pros and Highlights:
Simple – As I mentioned it's easy to operate and tune the sound.
Adaptable – It can be used as a single pedal or in a chain of pedals depending on your preference.
Lightweight – Not a lot of weight but gives a lot of power to the sound.
Cons and Potential Flaws:
Sustain – You need to lower the volume down a bit in order to decrease sustain, but as I said with some previous products, a little bit of fine tuning will make it sound much better.
Bottom line:
It's a simple but very effective pedal with some nice features that are great if you want to amp up the volume of your guitar or make some great chord-like effects.
---
MXR M102 Dyna Comp Compressor Pedal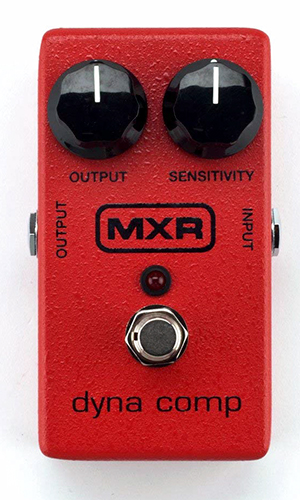 This is another lightweight and simple pedal because you just can't get enough of them, right? Jokes aside, this pedal is a more unique one because it has an Output knob which provides a constant output signal and also it has a Sensitivity knob for getting just the tone you are looking for.
It can produce those classic sounds many guitar players are looking for due to its single coils giving the sound that thicker and better tone. It also has an in-line compressor which evens out the signal to your amplifier giving the sound increased sustain.
Pros and Highlights:
Compression – It really enhances the compression and just an overall better sound quality for classic tones.
Quiet – What I mean by that is that it doesn't pick up frequencies which can distort the sound.
Design – I haven't talked about the design of the previous products but for this one, I have to mention not only its durable metal casing but also its interchangeable rubber knobs.
Cons and Potential Flaws:
Tuning – You just don't have much versatility with this, you're stuck with what you get, but what you get is an overall great pedal with nice features.
Bottom line:
Given the fact that this pedal will rather sooth the needs of those guitar players looking for classic sounds than a standard player, it's not a pedal everyone will appreciate but that doesn't mean that it isn't a good pedal just that people are picky.
---
Electro-Harmonix Freeze Sound Retainer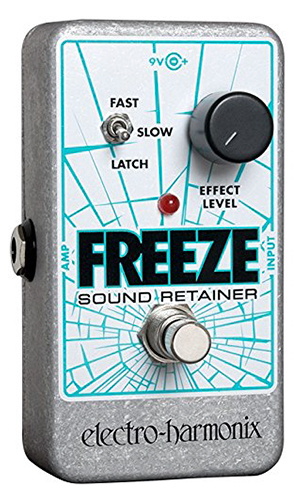 Another Electro-Harmonix product a bit similar to the last one, but it's quite different after all. I mean, it's got Freeze in its name so you know it has cool features, and the infinite sustain on any tone or chord is just one of them.
When you add three modes of decay rates – Fast, Slow and Latch, along with an Effect level knob you know you are set to make really unique and fun sounds. The Latch mode is its bread and butter because it gives you the option of capturing a sample by looping it and then adjusting it its perfection.
Pros and Highlights:
Latch – This is a nice feature a few pedals can offer and is really good when you want to make just the right effect.
Sustain – The latch mode isn't its only power, it also gives an amazing sustain to any sound you produce.
Cons and Potential Flaws:
Use – This depends on the player, it's pretty fun to play around with and discover certain sounds and can be quite useful if you want to find a specific sound, but if you want something more serious and versatile this isn't for you.
Bottom line:
An overall great pedal to experiment with, like I said, using this just for creating a certain sound is useful but by its own, it may seem a bit unnecessary. A great solution for this is if you want to put it in a pedal chain and then it will be a nice addition to the whole set.
---
Behringer Compressor/Sustainer CS400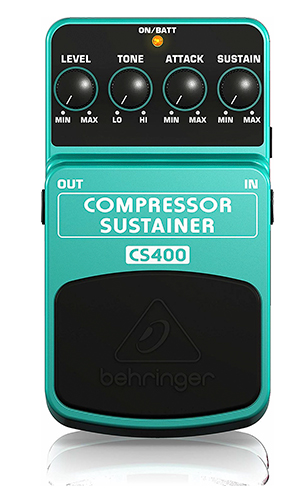 This I by far the most unique pedal on this list mainly because the design is well implemented in the overall features which include four knobs with min/max or lo/hi setup. The knobs are used for Level, Tone, Attack and Sustain which create an awesome sound and also can be used to shape it to your demands.
It's easy to use and grants endless sustain and compression to loud sounds, not to mention it can boost low signals without altering the sound. The clear and smooth dynamics go well with its clean and noise free electronics making it quite a good choice for any guitar player.
Pros and Highlights:
Tuning – Simple to tune and use, really you can't get any easier than this.
Price – Oh, did I mention it's under 30$? Shame on me.
Sound quality – the quality is great overall and doesn't get distorted if you know how to tune it right.
Cons and Potential Flaws:
It's made from plastic – Well not everything can be perfect if you are planning to kick it around in your Dr. Martin boots I don't recommend you buying this pedal.
Bottom line:
A great pedal considering the price, it's not quite durable but will do the job really well and even if you give it a rough beating you can always purchase a new one. The features are really nice to take care of it so you can get the most out of it.
---
Boss CS-3 Compressor/Sustainer Pedal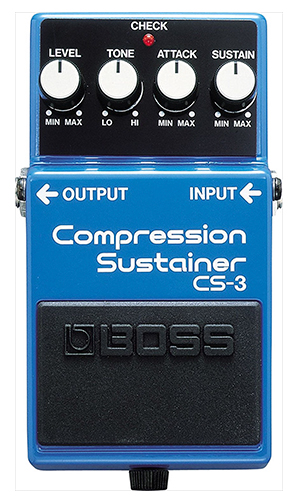 And last but not least we have the Boss CS-3, high-class pedal, quite sturdy and reliable equipped with four knobs for Level, Tone, Attack and Sustain. What really sets this pedal apart from all others is that it compresses louder sounds while boosting lower signals.
Once you establish a certain sound that you like there's no coming back, the quality is really high-end giving you that sharp and clear tones any guitar player will appreciate. The compression is perfect, sustain is even better, and all in all, it's a well-round pedal.
Pros and Highlights:
Quality – Well-built casing and the quality of the sound is impeccable.
Performance – This pedal isn't lagging behind like the other similar products and won't let you down, it's quite reliable in both giving you the sound you want and maintaining its quality.
Durability – It's quite durable due to its metal casing and will serve you very well for years to come.
Cons and Potential Flaws:
Tuning – If not tuned correctly It can produce some background noise, but knowing how much power it holds it's no surprise.
Bottom line:
In general just a well-built pedal, high performance, durable, gets the job done. The electronics are flawless and tuning it is simple when you get the hang of it. Overall if you are looking for a great not too expensive pedal this one is for you.
---
What we recommend and why
Now it's time to choose the best of the best from these 10 pedals and that isn't an easy task to do but with a bit of research and testing, we found our winner – Wampler Ego Compressor.
High-end sound quality, hand-made design and at the end of the day the best pedal on the market giving you the power to isolate a certain tone and enhance it, or just amplify the whole sound of the guitar. It's both reliable and versatile, no sound loss and maximum sustain, and for that price tag, you really won't find a better one on the market.