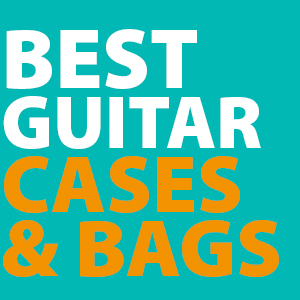 Finding the best guitar case for your guitar doesn't have to be difficult. We review all of the top hardshell cases, soft cases, and guitar gig bags, so you can figure out which one is right for you and your axe.
Why do you need a guitar case? Guitar cases are nice to have to keep your instrument safe while you aren't playing it or while you are traveling. They are also handy just to store your guitar in to keep it out of the way.
If your guitar didn't come with a case, you need to think about what you do with your guitar to figure out whether a guitar case vs gig bag would be right for you. If you travel a lot to gigs, you will probably want something with a little more protection like a hardshell case. If you just want to keep your instrument safe from a pet at home, a gig bag would be fine. Take a second and think about what you want your case for.
Now that you have it figured out, let's look at some cases.
---
List of Top Guitar Cases & Gig Bags
Here is a list of the best guitar cases and gig bags to keep your electric and acoustic guitars safe.
---
Levy's Leathers LM18-BLK Deluxe Leather Electric Guitar Bag
Specs, features, and benefits:
From a small family business that built leather straps with a few leather working instruments, Levy's has grown to become a brand that guitarists have come to trust for quality leather accessories. Through their over 45 years of operation, their passion for delivering nothing but the best quality has remained unchanged.
You can see this reflected in this deluxe leather electric guitar bag. Its 1 inch foam padding and inner lining provides complete protection for your guitar. You also get ample storage compartments for your accessories. Once packed, the double shoulder straps provide you with a comfortable means of carrying it. Carrying your guitar securely has never been this convenient.
Pros and Highlights
Full protection – It combines a 1" foam padding, plush lining and protectors for the guitar strings and saddle for all-round protection.
Good shoulder support – The double 2 inch shoulder straps are not just strong enough to carry your guitar and accessories but they are also comfortable on your shoulders, providing good support and balance for extended periods.
Ample storage compartments – With pockets for your strings, cables, tuner, pedals, picks and other small accessories, this baby can hold most if not all your accessories.
Cons and Potential Flaws
Selective headstock fit – Its design might not be great for guitars with angled headstock.
Bottom Line
This here offers everything a professional wants in a guitar bag. So if your guitar is very important to you, go for this bag.
---
Fender Deluxe Molded Stratocaster – Telecaster Electric Guitar Case
Specs, features, and benefits
When you hear the name Fender, the first image that comes to your mind is a guitar. Being the largest guitar manufacturer in the World, Fender certainly knows a thing or two (let's be modest) about guitars and how to protect it.
All you need is a look at Fender's Telecaster electric guitar case to see how true the statement above is. This case is built like a tank such that not even the battle fields of Iraq or Afghanistan will have much impact on it. From its very hard outer shell to its soft and cozy interior, it offers your dear guitar incomparable safety.
Pros and Highlights
Highly protective outer shell – Molded from military-grade polyethylene, this outer shell will withstand the most rigorous of conditions.
Cozy and protective interior – This provides a soft nesting place for your guitar, ensuring it does not fall around while being transported. Even if it falls, your guitar remains protected.
Secure locking – With its center latch locking system that is TSA-approved, you have no fears of the case coming open and spilling your dear guitar.
Cons and Potential Flaws
Inconvenient storage compartment – To reach this compartment, you have to lift out the guitar. This can be very inconveniencing.
Bottom Line
For the touring guitarist who owns a telecaster and wants maximum protection without all the attendant weight, this is the choice to go for.
---
Gator Cases Acoustic Guitar Case
Specs, features, and benefits
It's unbelievable that Gator Cases started operations less than two decades ago. The level of acceptance it now enjoys among professional musicians is simply a testimony to the quality of their products.
Just take a look at this acoustic guitar case made by Gator Cases for Dreadnought guitars and you will immediately understand why a lot of professionals go for this brand. Between its protective outer shell and its soft and cozy interior, your acoustic guitar enjoys maximum protection couched in soothing comfort. Guess what, the handle is ergonomically designed to make carrying it around a lot easier.
Pros and Highlights
Outer-shell made of molded polyethylene – This provides real protection from falls, bumps and other external dangers.
Plush inner lining with neck cradle – When you place your guitar in this case, it is nicely nestled from body all the way through the neck. Your guitar goes into the case in one piece and comes out in pristine shape.
Fully secure locking latch – Your guitar is not only latched in but also locked in so no one but you or anyone with the key can access your precious equipment.
Cons and Potential Flaws
Sizing issues – It may not fit some brands like dreadnaughts from Taylor.
Bottom Line
Do you have a dreadnought acoustic guitar that you truly cherish? Do you need a case that is lightweight but tough enough to keep your guitar protected externally while cradling it softly within? If so, just go for this case and you will be glad you did.
---
Music Area WIND20 Electric Guitar Gig Bag
Specs, features, and benefits
Music Area is likely not a brand name that a lot of musicians may have heard of. Every musician has however heard of the likes of Yamaha. Well, Music Area has for over 25 years produced instrument bags and cases for Yamaha and other major brands.
From its stable, it brings you this gig bag for the electric guitar. First, the materials used for making this bag meet the ROHS compliance guidelines, making them environmentally safe. It is well padded for full protection against impact, offers ample storage space and has a waterproof exterior that will keep your guitar from getting wet.
Just sling this over your shoulders and you are good to go.
Pros and Highlights
Eco friendly – You can feel good about carrying this gig bag, knowing you are contributing to the protection of the environment.
Water and dust proof – This bag shields your guitar from the risk of getting wet as wells as from exposure to dust.
Durability – With a zipper that can withstand over 8000 zipping and unzipping movements as well a general sturdy construction, this bag will serve you for many years.
Cons and Potential Flaws
Tight straps – Tall users may find the straps a bit tight.
Bottom Line
This is just the right gig bag for a guitarist who needs a solid, well-padded but lightweight gig bag that offers the added advantage of waterproof protection.
---
Gearlux Dreadnought Acoustic Guitar Hard Case
Specs, features, and benefits
Gearlux is a manufacturer of quality musical gear and accessories. Though not a highly popular brand, it is getting increased recognition as those who have gotten any of their products continue to give them very positive reviews.
Looking at the Gearlux Dreadnought Acoustic Guitar Hard Case, you can easily see why these positive reviews are pouring in. One of the first things you are likely to notice is its low price point. Do not let this deceive you. This case will give your dreadnought acoustic guitar the protection you crave without breaking your bank.
Pros and Highlights
Full protection – The outer shell is strong enough to fully protect your guitar from drops and external impacts.
Secure lock – Aside from the regular latch, it also includes a lock and key to increase the security of the case.
Plush interior – The well lined and padded interior completes your guitar's protection by providing a safe nesting place within the case.
Cons and Potential Flaws
Not Tweed – Just in case you were expecting a cloth tweed material based on its description, note that it is not tweed but a durable tolex material patterned like tweed.
Bottom Line
If you need a guitar case that is very affordable and can safely hold almost any type of acoustic guitar, go for this case.
---
ChromaCast CC-EHC Electric Guitar Hard Case
Specs, features, and benefits:
ChromaCast is a brand that has successfully dipped its hands into several musical gear pies. With a line of products that include guitar accessories, drum accessories, audio gear and more, it is surely making some serious impact in the music world.
Looking at the ChromaCast CC-EHC Electric Guitar Hard Case, it has no frills but is designed to get the job of protecting your guitar done perfectly. This rectangular shaped hard case features a wood construction that provides the main protection while a peek into its interior reveals a well-padded resting place for your guitar.
Pros and Highlights
Extra protection – Aside from the plush interior, it also offers extra padding for the guitar neck and bridge.
Security – The case is lockable, reducing the risk of unauthorized persons gaining access into it.
Comfortable handling – The handle by which it will be carried is comfortably molded to make carrying easier.
Cons and Potential Flaws
The neck rest may not be deep enough to hold the neck in, preventing it from falling back and forth.
Bottom Line
If you are not looking for a guitar case with bells and whistles but something that will provide the protection your guitar requires at an affordable cost, look no farther than this.
---
Ibanez IAB541 Powerpad Acoustic Guitar Gig Bag
Specs, features, and benefits
We cannot possibly mention top guitar brands without mentioning Ibanez. Having made a name for itself in guitar construction, it is only natural that we trust them to also deliver top quality gear for their product.
Looking at this Powerpad Acoustic Guitar Gig Bag from Ibanez, it is immediately clear that this brand understands that musicians are stylish by nature. This gig bag combines a stylish design that sets you apart with from the crowd while also providing good protection for your guitar. Who says you can't enjoy the best of both worlds?
Pros and Highlights
Good protection – With a 15mm of padding on the sides and bottom of this bag, your guitar is shielded from scratches, bumps and damage from direct impact.
Ample storage space – The four pockets provide good storage for your accessories. You can actually pack most of what you need in this bag.
Convenient carrying options – You can choose between strapping it over your shoulders and carrying it sideways with the included handle.
Cons and Potential Flaws
Faux suede – You may need to take care not to rub it against surfaces as the faux suede is quite thin.
Bottom Line
This gig bag offers a great combo of style and functionality. If you love staying stylish then you can afford to do so with this bag without compromising on the protection of your guitar.
---
Faswin 41 Inch Dual Adjustable Shoulder Strap Acoustic Guitar Gig Bag
Specs, features, and benefits
Faswin excels at offering simple solutions at very affordable prices. You will find this evidenced in their many different products, including the Faswin 41 Inch Dual Adjustable Shoulder Strap Acoustic Guitar Gig Bag.
As far as guitar gig bags go, this offers the simplest of solutions for conveniently moving your guitar from one place to the other without the fear of scratching it or exposing it to the environment. It might not look as impressive or intimidating as some other gig bags but it is surprisingly well made.
Pros and Highlights
Extremely affordable – It's not likely you will find a gig bag of any quality that costs less than this.
Quality materials – it is made of good quality materials which ensure its durability.
Headstock and bridge protection – Though it does not offer too much general protection, it includes patches that specially protect the headstock and bridge.
Cons and Potential Flaws
Light Protection – If you are looking for serious protection for your guitar, this won't offer it.
Bottom Line
This is a simple gig bag that is just right for the easy transportation of your guitar. If this is all you want in a gig bag, then this will surely be the right pick.
---
What We Recommend and Why
WOW! So much great gig bags and cases to choose from. After carefully reviewing the different options listed above, our choice is the Deluxe Leather Electric Guitar Bag from Levy's Leathers.
This gig bag nicely combines class and good protection. This is a gig bag that you can proudly walk into any location with. You will feel good and your guitar will too.