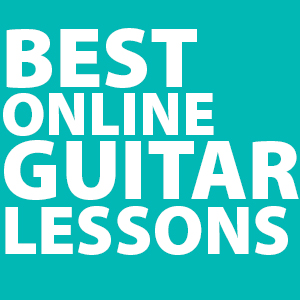 Learning to play guitar is difficult. Finding the best online guitar lessons that will train you become a great guitarist and jam with your friends is even harder. There are so many different options to choose from, how are you supposed to know which lessons you will actually learn guitar tricks and techniques from and which ones are a waste of time? Don't worry. I'm here to help.
I've been playing guitar since I was 13 years old. I've played just about every style. From being in heavy metal Metallica cover bands to playing solo fingerstyle (Tommy Emmanuel and Andy Mckee kind of stuff), I know a ton about the instrument.
One thing that I would recommend for you and every beginner to intermediate guitarist is to take lessons. Playing guitar is not only about learning cool songs, it's about training your style and developing your own tone.
Most people get discouraged when they start learning guitar because they feel like they aren't getting anywhere. That's why it's so important to get guitar training. Rather than sifting through a sea of unrelated youtube videos that will distract you, you need a focused top online guitar course that will quickly teach you the basics and develop your intermediate chops.
Structured lessons are so important! There are LOTS of free online guitar lessons, but most of them aren't very helpful and none of them will teach you how to improve quickly. That is why a well thought out lesson program is what I recommend to help you improve faster and more consistently. Let's take a look at some of the options.
Top 5 Best Guitar Lessons Online – 2019 Course Comparison Guide
---
Compare this List of Best Online Guitar Lesson Websites in May 2019 – [ Beginner To Advanced ] –
Justin Guitar
Guitar Instructor
Guitareo
Guitar Compass
Fret Jam
Hub Guitar
Here is a list of the best online guitar lessons that will train you to become a great guitarist and teach you to start playing guitar today!
---
Guitar Tricks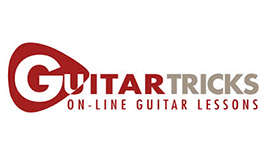 GuitarTricks has the best lesson program. I've used and looked at a ton of different lesson websites and I think Guitar Tricks is by far the best especially for beginners.
Their comprehensive course includes:
Over 11,000 super easy-to-follow videos
Over 600 REAL songs from bands like Jimi Hendrix and The Beatles
Not to mention their interface is awesome to use!
Their system just plain works
My playing improved drastically after a few short weeks of using this site. You should definitely check it out.
Probably the biggest advantage to Guitar Tricks is it's TOTALLY FREE to start. Yup, that's right. You can start it for free. Plus, even if you use it for the first month or two and don't think it's worth the money, you can get a full refund within 60 days. There is literally no risk in checking this one out. How can you go wrong?
---
JamPlay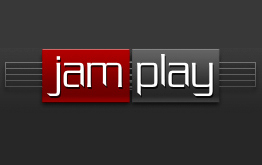 JamPlay has awesome training and will really help your playing. Their system is pretty unique in that they have guitar coaches or instructors that you can use similar to taking real guitar lessons in person at a music store.
Here's what's included:
Over 5,500 videos in HD
Over 90 professional instructors to learn from
Unlimited access as much as you want to learn!
Live instructors online everyday
I think the live online instructors forum lessons are really cool. They make you feel like you are in a real lesson rather than just watching a video. They have great step-by-step instructions for every type of playing style out there from shredding metal guitars to country, blues, jazz, and folk. You name it. They have instructors who specialize in that style.
The only drawback to JamPlay is the price. It's a little more expensive than GuitarTricks, but they still offer a 100% money-back guarantee. Try it and if you don't like it, you can get your money back instantly. How sweet is that? They've been offering this guarantee for years and say that not even half of one percent of customers ask for a refund. That's how much you are going to like it. Go check it out for yourself.
Use coupon code 1BA1E2 to save 25% off first your first month!
---
Fender Play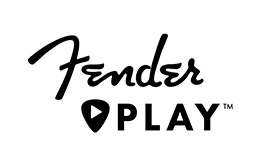 Fender is one of the original names in guitar. They have been making some of the best electric guitars in the world since the late 1950's. Heck, they basically invented the modern solid body electric guitar. Now they've taken their trademark style and love of music and applied it to guitar lessons. Fender started their revolutionary guitar lesson app in 2017 to help people start rockin' on their Fender guitars as soon as they bought them.
Fender's approach to guitar lessons is slightly different than some of the other lesson companies out there. They show you the basics of chords and music notation, but then they stress learning songs. They have hundreds of popular songs that other companies don't offer. So if you want to learn your favorite songs, this is probably the lesson service for you.
Here's what included:
Hundreds of lessons on technique, basics, and theory
More popular songs and riff than others
Lessons of guitar, bass, and ukulele
Lots of other Fender app features
This lesson package is great for people who want to learn a library of popular music and songs that aren't offered on other services. They have a really good selection, but since they just started this service in 2017, they don't really have that much for more advanced players yet. I'll update you when they add more, but in the meantime, this service is geared more towards beginners and intermediate guitar players.
---
ArtistWorks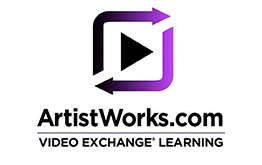 ArtistWorks was established in 2008 as a music school teaching more than just guitar online. They quickly grew to over 50,000 members for a good reason. They provide great instruction for all skill levels.
Their basic program is broken up into two main sections: professional lessons and video exchange learning. The professional lessons are standard, high quality videos lessons for students to follow on their own. The video exchange takes the idea of video lessons a step further by allowing students to submit videos of them them playing and receive feedback from ArtistWorks instructors. This way you know you will never be practicing bad habits. This is the feature that really sets ArtistWorks apart from all other online guitar lesson providers.
Here's what is included in the course:
Hundreds of video lessons
Tons of Rock star instructors like Paul Gilbert
Many different styles and instruments to learn
Ability to get personal 1-on-1 guitar training
The ArtistWorks program is great for anyone who wants the best benefits of online lessons and in person lessons. Since you can use their revolutionary video exchange, you can basically have the resources of an online lesson system and the personal touch of an individual guitar teacher.
---
TrueFire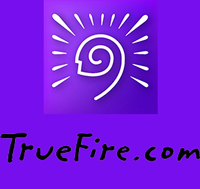 TrueFire started in 1991 and has been developing some of the world's most detailed and helpful guitar courses ever since. They focus on helping you develop your technique and style without overloading you with a million different songs to learn. Each lesson focuses in on different areas that you need to practice to become a better guitarist and musician.
TrueFire has, by far, the most impressive list guitarists as instructors. Their lessons are taught by guitar players like Steve Vai, Andy Mckee, and Tommy Emmanuel. Learning from amazing players like this will not only help you become a better player, it will also help you stay motivated to practice. TrueFire also offers an option to have private 1-on-1 lessons with an instructor and add additional backing tracks to your lessons for extra practice time.
Here's what's included:
33,000 lessons
700 full courses
7,000 backing tracks
140 expert, rock star educators
Excellent intermediate and advanced lessons
TrueFire has so many awesome resources for guitar players, but their interface is a little difficult to navigate. It's manageable after you get used to it, but it takes a little while. TrueFire courses are great for beginner guitar players, but they excels for intermediate and advanced players. If you are an intermediate guitarist looking for something to take your skills to the next level, this is the right lesson platform for you.
---
Jamorama
Jamorama is a unique departure from the traditional online guitar lesson websites. They have turned the experience of learning guitar into a social experience. They call their platform a social network for guitar students and that's exactly what it is.
After you start an account, you will have access to all of their lesson videos, guitar lesson materials, and courses. You can go through those courses and mark your process on your profile. You can also share your progress with your friends on the platform and even ask others for help with activity posts and messages. It really creates a community of guitar students willing to help each other out.
At the core of this platform is the lessons and courses.
Here's what's included:
Hundreds of lessons
Multiple full length courses
Access to backing tracks
Access to discussion boards and helpful forums
Jamorama is a great tool for people who are sick of being frustrated in their room all alone trying to learn the guitar. People who want to socialize and network with other guitarists can take advantage of all their messaging tools and forum features that don't exist in other platforms. As far as the lessons go, they are great for beginners, but if you are looking for advanced guitar training, you should probably look at another lesson service.
---
Best Guitar Lessons for Beginners Online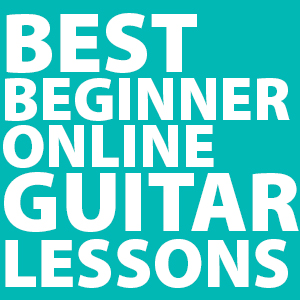 Beginner guitarists need a different type of lesson than more advanced players. If you are a beginner, you need something that is easy to follow and breaks down the difficult songs into easier bite-sized pieces. You also need something that will guide you through the simply stuff quickly and get you rockin' in the shortest time possible. None of us want to be playing simple chords forever.
I recommend Guitar Tricks for beginners. They have the best beginner guitar lessons that are organized well and easy to follow. They guide you step-by-step through your first open chords and beginner songs all the way up to full blown guitar solos.
With their new Full Access face-to-face lessons, you will have direct access to professional instructors who will make sure you are practicing correctly and not picking up bad habits. You will also have access to their extensive catalog of backing tracks and play along songs that will help you develop your strumming, rhythm, and soloing skills.
Guitar Tricks is definitely the best guitar training for beginner guitar players.
---
Best Free Online Guitar Lessons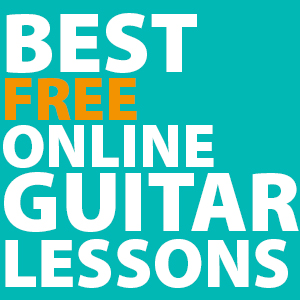 Unfortunately, as with most things in life, you get what you pay for. There are a lot of different free guitar lessons out there, but I wouldn't recommend this for beginner guitar players. The main reason is that they aren't structured or designed to help you advance as a guitar player.
Although none of these lesson resources are a substitute for a complete course, here are the top free guitar lesson websites online:
1. Guitar Trick Free Trial
You might know this, but Guitar Tricks actually offers a set of free lessons when you first sign up for their service. You can use these few initial lessons indefinitely even if you don't sign up for an actual membership!
2. JamPlay Free Trial
JamPlay has an awesome free set of lessons for a few weeks when you sign up for their program. It only lasts for a few weeks, but it's worth checking out.
3. Fender Play Free Lessons
FenderPlay offers all kinds of songs and basic guitar lesson for free when you just open an account. You don't have to pay for anything. Just sign up for a free trial and you'll get access to a bunch of songs and other basic lessons.
4. Justin Guitar
Justin Guitar is probably the most in-depth free lesson website. He has thousands of different videos about most styles of guitar playing. Not all of them are free, but many of them are. It's a good place to start.
5. Guitar Compass
Guitar Compass offers some free lessons in addition to their paid premium lesson service. This isn't as big as some of the other websites mentioned, but it's a good place to get great tips.
6. GuitarLessons.com
GuitarLessons.com has both a free side and a premium, paid side. Their free stuff isn't that detailed, but there are plenty of things to check out.
7. Andy Guitar
Andy Guitar is similar to Justin Guitar. He has a great Youtube channel that has thousands of free lessons on there. They aren't in any particular format or order, but you don't have to pay for them either. He has a bunch of useful things on there.
The sea of free youtube guitar videos are great to learn a few things here and there, but they aren't comprehensive lessons that will actually help you improve as a guitarist and a musician. You need actual lessons for this.
Plus, too many beginners get lost in the endless amounts of information online and end of getting frustrated. This typically ends with them quitting. Don't be one of those people.
You want someone who knows what they are doing and can teach you the tips and tricks of playing quickly, so you can start jamming right away. Trust me. It's far faster and less frustrating to simply take lessons for a while than to wade around online trying to find free stuff.
I'd recommend signing up for the Guitar Tricks free trial. You get 14 days to test out their platform, use their lessons, and see if you like it. If you don't like it, you don't have to pay anything. It's totally free! This is a way better route to take than getting frustrated on youtube and not improving for months on end.
---
Best Electric Guitar Lessons Online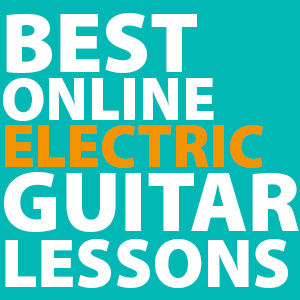 Learning to play electric guitar online is super easy. JamPlay offers lessons from some of the most popular and well respected electric guitar players in the world. They have full masterclasses from guitarists like:
Tony MacAlpine (Solo Artist and former Steve Vai Artist)
Tosin Abasi (Animals as Leaders)
Rex Brown (Pantera)
Robb Flynn (Machine Head)
Bumblefoot (Guns 'N Roses)
Each of their lessons offer detailed videos showing you everything from basic chords and strumming to modern solos and finger tapping techniques. The rock star roster of more than 92 instructors help you learn the style of music that you want to play on the electric guitar. They teach everything from hard rock and metal to modern rock and country.
I recommend JamPlay for anyone who is serious about learning to play the electric guitar. Whether you are a beginner just looking to play your first chords or an advanced player looking to improve your solos and expand your tone, they have everything that you'll want in online electric guitar lessons.
---
Top Online Guitar Lesson Free Trial Coupons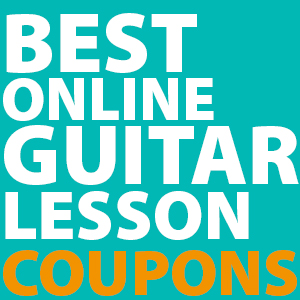 One of the best things about signing up for guitar lessons on the internet is that you can do it for FREE. That's right. What other guitar lessons could you go to for a few weeks for free and then not have to pay them anything if you didn't like them?
The answer: none. If you went to a local guitar shop and took 2-3 lessons, you would have to pay them $20-$30 per lesson. With online lessons, you can sign up, test drive their service, and use as many lessons as you want for the first two week completely for free.
If you decide that you don't like them for whatever reason, you can cancel the subscription and you won't have to pay anything. That's such a crazy deal. It's almost worth it to sign up for all of them just to get a few weeks of free lessons. 🙂
Here is a list of the top online guitar lesson free trial coupons and discounts on the market that you can take advantage of to learn guitar for free.
Best Guitar Lesson Free Trial Discount Codes
---
Best Guitar Backing Tracks for Online Lessons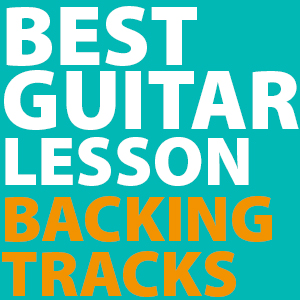 Guitar backing tracks or jam tracks are simply a recording of the band playing a song without any lead guitar or vocals. Playing with a backing track is a great way to practice guitar and get better at playing with a band. It's also a great way to develop your soloing techniques and improvising skills.
Many of the guitar training courses have some backing tracks for you to work with, but some companies emphasize them more than others. For instance, the Fender Play lessons almost exclusively show you how to play popular songs. As you learn your favorite Red Hot Chili Peppers tune, you can play along with their backing track.
Other courses like JamPlay and Guitar Tricks offers tons of original jam tracks in all different styles and keys. They have everything from country to metal tracks that you can use to practice playing with a band or work on your soloing skills.
You can't go wrong with either JamPlay or Guitar Tricks for backing track selection, but TrueFire has the most amount of play-a-long tracks out of any company. So if this is really important to you, you should check out TrueFire.
---
Common Guitar Lesson Questions
Do Online Guitar Lessons Work?
In short, yes. Online guitar lessons work. It's really easy to learn guitar online. Computer based teaching has been around since computers were invented. Even before that video based training was around. Thus, the age-old debate of whether real-life live teaching is better than virtual teaching has been going on for decades. There are obviously pros and cons to both types of learning, but in today's modern world of virtual lessons and online courses web-based teaching is pulling ahead at least for many topics.
Music is one of those topics. Virtual teaching has come so far from its early days that video lessons are actually more helpful and informative than real-life lessons. Here's what I'm talking about.
Pause, Rewind, and Repeat
One of the main reasons why music courses and guitar lessons online are so effective is because you can pause, rewind, and repeat. Unlike in an in person lesson, virtual training lets you pause what the instructor is saying to give you time to process it and figure it out. Then you can hit play and jump back into the lesson. I know teachers can stop in real life and show you more details about the technique, but that takes time away from the lesson. If you have to stop for 10-15 minutes and focus on a fingering pattern, half of your lesson is gone and you didn't really learn anything new.
Internet based training lets you watch the same instruction over and over again until you figure out the fingering patterns without cutting the rest of the lesson short. Not to mention, you can also pause and stop any video during the teaching and come back to it a later time. This means you don't have to block out an hour or two at a time. You can sit down for 15 minutes or 30 minutes at time and learn something new.
Learn any Playing Style or Genre
Although there are plenty of great musicians teaching at local music stores (I know, I was one of them), most of these instructors don't have a wide knowledge of different genres. For example, your local guitar shop teacher will probably only be able to teach you one or two genres of playing like rock and blues. But do these people know country, metal, reggae, soul, fingerstyle, classical, and everything else?
Okay, that was kind of a loaded question, but you get the point. Going to a local music store limits the type of music and playing styles that you can learn. You are pretty much just left up to whoever they have working there at the time. You don't have to problem with web-based training. There are limitless videos on every single genre and playing style you can think of. Not to mention, you can work on different playing styles at the same time. For instance, you can work through a country playing module on Monday and Wednesday and work through a classical series on Tuesday and Thursday. There are just so many more options than traditional lessons.
Learn Any Song Anytime
One of the biggest reasons why beginners end up quitting guitar is because they feel like they aren't getting anywhere. I know what I'm talking about. It's hard to stay motivated to learn an instrument when you are have to practice Mary had a little lamb everyday. You need something cool that you can relate to.
The only thing that helped me through the pain of learning my first chords was working on Metallica riffs, Zepplin tunes, and Hendrix solos. Without that music there to motivate me, I might have quit too. All of the major online guitar instruction sites show you how to play tons of your favorite songs, so you can learn anything you want to. I'm sure they have Mary had a little lamb too if that's what you want. : )
---
Why Should I Take Guitar Lessons Online?
I learned this from the beginning. When I first picked up the instrument, I thought I didn't need lessons or training. I fumbled around on the internet looking for online guitar tabs, training videos, and learning songs by ear. It wasn't until I started taking lessons at local music stores and guitar lessons online that my skills really improved.
I wish I had done that sooner. The $19 it costs to join one of these professional online guitar lessons sites is EXTREMELY worth it. I saw a huge improvement when I joined. It's so important to have a great experienced player train you how to practice and play. You will see such better and faster results.
---
How Much Do Online Guitar Lessons Cost?
Guitar lessons online typically cost about $20 per month. That's not expensive at all, especially compared with traditional lessons at a music shop. Typical music shop lessons cost about $20-$30 per half hour lesson. To me it seems crazy to pay that much money for something that is a one type thing. You can't re-watch, pause, or replay your lesson from a local music shop. If you forget what the teacher showed you, you are kind of out of luck.
Online lessons are so much more affordable both in total dollar amount and in value. For a small monthly fee, you get access to thousands of lessons that you can revisit anytime you want. You also get access to tons of backing tracks and songs to play along with. Not to mention, some services like ArtistWorks give you a personal lesson option. Needless to say, online lessons are a way better value.
In fact, most of the lesson websites actually have free trial options, so you can get a week or even a month for free!
Online Guitar Lesson Prices
| Online Guitar Lesson Costs | Price (After Discount): |
| --- | --- |
| Guitar Tricks | $19.95 |
| JamPlay | $19.95 |
| ArtistWorks | $35.00 |
| TrueFire | $19.95 |
| Fender Play | $9.99 |
| Jamorama | $9.95 |
---
What to Look for in Online Guitar Lessons?
There are a ton of different things that you should look for in guitar lessons, but the most important are:
Structured and organized lessons
Lessons that target weak areas and help you improve faster
Expert and virtuoso guitar teachers
Training on every guitar style and genre
The main two places online that that have all of these are Guitar Tricks and Jamplay. There are many other guitar lessons online, but these are the two that are the most consistent and comprehensive. Although they aren't free forever, they are free to join. This way you can try them out and see if you like them. They've helped me learn much faster than I would have on my own.
---
What are the Major Benefits of Guitars Lessons Online?
There are so many benefits to online education. It's kind of crazy that it's taken this long to catch on and become a staple in everyone's life. I'm not sure I could live without my online courses now. I'm a member of a ton of different places (not all guitar related) and I love learning new things and getting better at guitar. Here are a few of the top reasons why I like internet courses so much.
Less Expensive
Learning music online is so much more affordable than learning guitar at a local music shop. Depending on what part of the country you are from, you could be paying $25-$50 per half hour lesson each week at a local music store. That's a ton of money—anywhere from $100 to $200 a month to learn how to play guitar.
Now think about guitar lessons online. You could have an unlimited number of hours of videos and instruction for only $19 a month. It's really a no brainer as far as I'm concerned.
More Convenient
Let's face it. We all have busy schedules and all have lives to attend to. It's hard enough just finding the time to site down and practice let along actually book a lesson, drive to the store, wait in line, and drive back home. If your experience is anything like mine, your commute to and from the local guitar shop will actually be longer than the training itself. It's just a huge waste of time.
With online guitar training, you can easily log into your account whenever you have a few minutes and sit down to learn something new. No booking appointments. No driving to crowded stores. No teachers canceling on you. It's way more convenient.
Learn From Experts
Although many local musicians are good and have some experience and education, they typically are industry known experts. The teachers in these guitar membership sites are professionals who have successful careers in the music industry. Some are studio musicians and recording artists while others are touring musicians. They are in bands like Guns 'n Roses, Billy Idol, Animals as Leaders, Steve Vai, Megadeth, and Korn.
I'm not sure about you, but I'd like to learn popular songs from the people who actually wrote them. Not only do you get great training, but it keeps you motivated. Learning from Tosin Abasi himself was really motivating to me.
---
Why should Beginners use Online Guitar Training?
Easy and Non-threatening
If you are like most people, going into a guitar shop and sitting down with a teacher is kind of scary, especially if you are completely new to guitar. Learning guitar doesn't have to be scary though. These online videos start at the very beginning and show you step-by-step how to improve and what to focus on.
There's no expectations or mean teachers. You can take your time to learn the basics before moving on, or you can go crazy and plow through new instruction everyday.
Affordable
I know I mentioned this before, but it's worth talking about again. Going to the local music store or hiring a private instruction is crazy expensive. Why would you want to spend all that money if you're a beginner and don't even know if you want to continue learning.
Be smart and try a free trial in one of these online guitar membership sites. You can see what learning guitar is like and not spend any money. After the first month it's way more affordable than traditional teaching.
Learn Anything You Want
Unlike learning from a teacher who has a set lesson program, learning guitar online let's you learn anything you want. There are lesson programs you can follow, but there are no rules. You can start learning any style or any song anytime you want to. You aren't tied to a teacher's lesson plan that can't be changed.
I realize this might sound like too much freedom for some people. Sometimes you need a little bit of structure in order to learn efficiently. I hear you on that one and I agree. That's why each website has a beginner's section where they walk you through all of the basics in their own plan. It's there for you if you want it, but you don't have to stick to it. You can learn anything you want day or night.
---
Who is the best Online Guitar Teacher?
This is a common question that doesn't have an exact answer. There isn't a best guitar lesson teacher online. There are many different teachers and instructors who are all great at teaching you different things. For example, if you are really interested in learning Jazz, you probably don't want to go to a country guitar teacher. Likewise, there are teachers at many different skill levels. You'll need one that is good enough to show you what you want to learn and help you improve quickly.
The important thing is that you find the right guitar teacher for you. There isn't a single best online guitar teacher for everyone, but there might be one for you. Check out the different lesson programs above and see which one matches the style that you want to learn. Then try one of the free trials to see if you like their teaching style. If you do, awesome! You found a great teacher and now you can start learning to play the guitar.
---
Can I Learn Guitar Online?
So many people ask, can you teach yourself guitar online? The answer is yes. There are millions of people each year who learn how to play guitar through online lessons exclusively. They never enter a music store and never take lessons from someone in person.
There are so many great options for guitar instruction online that you don't need to go to a music store to learn guitar. Lesson programs like Guitar Tricks and JamPlay have lessons that range from beginner showing you how to hold a guitar pick to advanced guitar playing teaching you music theory and advanced soloing techniques.
You can definitely learn guitar online. In fact, you can become an advanced guitar player simply by taking lessons online. Don't take my word for it, though. Try it for yourself.
Sign up for a free trial offer and see how you like!
---
Can I Teach Myself to Play Guitar?
Yes, you can teach yourself guitar. Many people do, but I wouldn't advise it. The main reason is because unless you are really passionate about the guitar or really motivated to learn, you might get overwhelmed by all of the information and things to learn as a beginner.
The learning curve for guitar is pretty steep and a lot of people quit before they get good enough to start having fun. If you take lessons from a talented guitar teacher, you will not only have a guide through all of the information, you will also learn much faster.
A guitar teacher will teach you how to practice, what to learn first, and what you are doing wrong. That way you aren't practicing bad habits and setting yourself up for failure down the road. Like I said, anyone can teach themselves guitar. All you have to do is buy a beginner guitar lesson book, but trust me. It's way easier and faster to learn from a teacher.
---
How Much Are Guitar Lessons for Beginners?
Traditional guitar lessons at a music store typically cost about $25-$45 per half hour lesson. Obviously, this varies depending on your location and demographic. Lessons in NYC are going to be more expensive than lessons in Montana.
That being said, any lesson at your local guitar shop is going to be way more expensive than taking them online. Not to mention you will be getting way less instruction. Most online guitar courses have thousands of lessons and hundreds of instructors to learn from. They also have tons of backing tracks to practice with.
Also, you can practice or watch the videos any time you want. You aren't tied down to once per week. It might have made sense 30 years ago to go to a music shop to learn guitar, but today there isn't much point. You are paying more for less.
---
What Guitar Should I Buy for a Beginner?
There are many different guitars that work great for beginner guitar players, but before you decide on one, you should think about what type of music you want to learn. Each guitar has a slightly different tone and is used for a different type of music. For example, a Fender Telecaster is a favorite country guitar; whereas, an ESP is a favorite hard rock guitar.
Think about what type of music you would like to play and then start looking for guitars that fit that style. No matter what type of music you like, there are many great guitars under $500 that would work out perfectly for your first guitar.
---
What Do Guitar Lessons Cost?
Guitar lessons aren't cheap. Most music stores charge between $25-$45 per half hour lesson on a weekly basis. This means that you can plan to pay about $150 per month to learn guitar at your local music shop. That's expensive!
Online training is so much more affordable. For only $20 per month you can sign up for Guitar Tricks or Jamplay and have thousands of lessons and hundreds of teachers at your disposal.
There's really no comparison. Learning from an online program is not only way easier and convenient, it's also much more affordable.
---
What's the Best Way to Learn Guitar?
The best way to learn guitar the fastest is to take lessons and practice regularly. The key to learning guitar isn't all about practice. It's about practicing the right techniques that will make you a better player.
Remember, practice doesn't make perfect. It makes permanent.
If you practice the playing wrong everyday, you will get really good at playing something wrong.
That's why lessons are so important. They guide you in the direction and show you what you need to be practicing and when you need to practice it.
In short, the best way to learn guitar is to learn from some else who knows what they are doing. Then practice until your hands hurt. 🙂
---
Who has the best Online Guitar Lessons Program?
There are several different companies that offer great guitar lessons, but Guitar Trick and Jamplay are the top companies.
Their teaching style, catalog of learning materials, and video lectures are the best by far. If you are going to with any online learning platform, I'd recommend going with either Guitar Tricks or JamPlay.
---
Is It Possible to Learn Guitar Online?
Yes, of course you can learn how to play guitar online. Millions of people do every year. Guitar Tricks is one of the largest online guitar teaching companies with over 3 Million students worldwide!
Learning to play with internet based lessons is easy. In fact, in most cases it's easier than taking lessons at your local music store.
---
Famous Guitar Players who Teach Online Guitar Lessons and Courses
Don't believe that online guitar programs are the way to go? There are tons of guitar masters who have not only endorsed internet based courses, they've written some themselves. Some of the best guitarists in the world are preaching that virtual training is the easiest and fastest way to learn how to play guitar. Here's just a few examples.
Joe Satriani Guitar Lessons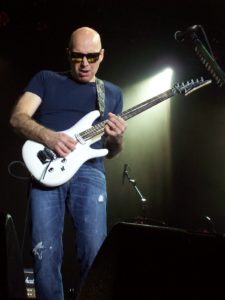 Joe Satriani is one of best rock guitarists of all time.
He pioneered the instrumental rock guitar concept with his Surfing with the Alien album.
He also created the G3 guitar tour that features the best guitar virtuosos each year. Joe values music education, especially virtual education.
He actually taught Steve Vai how to play guitar believe it or not.
Joe has created and endorsed countless guitar education courses like the one above.
---
Steve Vai Guitar Lessons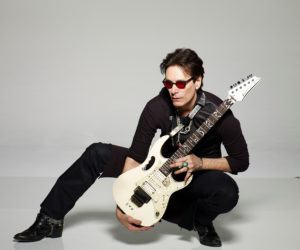 Steve Vai is commonly recognized as one of the best electric guitarists in the world. Before starting his solely career, he played with bands like Frank Zappa and David Lee Roth. You might not be familiar with Steve himself, but you've probably seen his guitar at a Guitar Center near you. It's the one with the handle in the body. It's awesome; I have one. : )
Steve was a huge inspiration to me when I first started playing guitar and loved reading his tips and transcriptions in the Guitar World magazines. Above is the video of the world's largest online guitar lesson that Steve partnered with Berkley College of Music to create.
---
Eddie Van Halen Guitar Lessons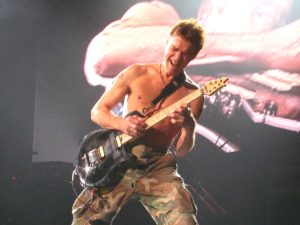 Everyone knows Eddie Van Halen's name and most of his music. He practically invented the two handed tapping technique in his Eruption solo. Yup, you know what I'm talking about.
Obviously, Van Halen was incredibly successful and sold millions of albums.
Like the other rock guitars I've mentioned, Eddie believes in online education.
Here's a video Eddie did with the Smithsonian Institute to teach people some of his virtuosos tips.
---
Yngwie Malmsteen Guitar Lessons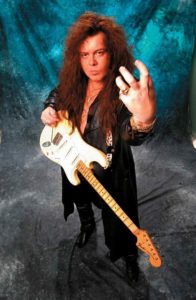 Yngwie Malmsteen is the king of shred and fast guitar playing. He came over from Sweden and lit the metal guitar scene on fire with his debut album.
Ever since then he's been recognized as one of the best guitarists in his style of playing. No one shreds quite like Yngwie and no one will. He has a style all of his own.
He's also been a true pioneer in the video lesson industry. He was making instructional courses way back in the 1990s.
He believes in video lessons and regularly breaks down his more challenging arpeggios into bite-sized pieces so even mere mortals can play them.
---
Andy McKee Guitar Lessons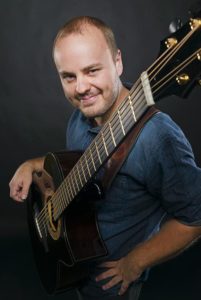 Andy Mckee is one of the most popular acoustic guitarists in the world.
With his percussive style and two hand tapping approach, he catapulted to fame with his hugely successful Youtube channel.
He was originally a guitar teacher in Topeka, Kansas and now he does guitar clinics all over the world as well as online guitar lessons for people over the internet.
How cool is that?
Andy is still one of my guitar idols. It's so cool that I can learn directly from him.
---
So What Are you Waiting For?
Start a Free Guitar Lesson Today!
Check out either one of the courses below and get playing today. Learning guitar is one of the most fulfilling things I've ever done. It's a way to be creative, connect with other people, and just have fun. I wouldn't give it up for anything. Trust me. You will have just as much fun.
Get started with one of the free trials below.
---
What is the Best Online Guitar Lesson Course?
Full list of Online Guitar Training Websites Below:
| Best Online Guitar Lessons | Best Feature: | Price (After Discount): |
| --- | --- | --- |
| Guitar Tricks | Most Lessons | $19.95 |
| JamPlay | Best Live Lessons | $19.95 |
| ArtistWorks | 1-on-1 Lessons | $35.00 |
| TrueFire | Most Lesson Materials | $19.95 |
| Jamorama | Most Affordable Lessons | $9.95 |
Best Online Guitar Lessons