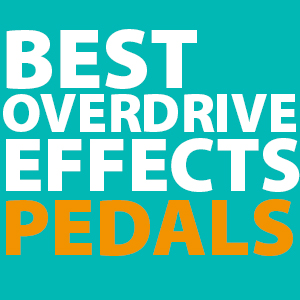 Finding the best overdrive pedal to get that sweet gain boost and overdriven tube amp sound is kind of hard. There are a ton of great overdrive effects pedals to choose from. That's what we are looking at today, but first what does an overdrive effect do?
When you feed too much power into the amplifier your guitar, the amp goes into "overdrive" and produces a very peculiar sound. This sound is called clipping, and it's easily recognizable, especially if you're a passionate blues fan/guitarist. This sound is kind of like a natural distortion. It's similar to an old tube amp being pushed to its limit. There is a bit of clipping and crackling. This isn't to be confused with a true distortion pedal which makes a much more exaggerated sound.
Overdrive pedals produce this clipping sound without having to crank your tube amp up to eleven. Now that you know the difference between overdrive pedals vs distortion pedals, let's take a look at our list of top 6 overdrive guitar pedals on the market!
---
Top 6 Overdrive Guitar Effects Pedals
Here is a list of the best overdrive guitar effects pedals out there right now.
---
Wampler Dual Fusion Tom Quayle Signature Overdrive Guitar Pedal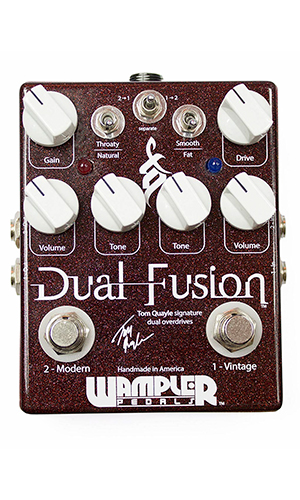 Wampler pedals are characterized by their stylish, intricate design. Its name is also the factor which stands as a testament to their quality. Wampler cooperated with a famous British guitar player, Tom Quayle, in the process of making this pedal. That's why the paddle bears the signature of this celebrated performer.
This pedal is a hand-crafted masterpiece, boasting some impressive technical capabilities and overall beautiful design. Within one beautiful package you get not one, but two separate pedals, which can be used either separately, or in unison. The pedals may have a separate set of controls, but they are very easy to use, so don't worry about getting confused while using them.
Dual Fusion will allow you to choose the exact type of your sound: Modern and Vintage. Both of these modes come with separate settings. Modern mode provides the darker and lower tones, while Vintage gives higher, lighter, and more energetic sounds. The independent switch at the top of the device enables you to select your preferred routing way.
There is so much to be said about this amazing pedal, and its extreme levels of versatility and sound quality make this device an absolute must-have.
Pros and Highlights:
2 separate pedals in one package, with separate control knobs
Both pedals have separate voicing options – there are separate voicing control knobs for each pedal within the chassis
Stacking order can be switched – due to the separate switch, the routing can be selected as you see fit
Superior sound quality and response – High-end film resistors and capacitors used to create this pedal are responsible for its unmatched sound quality
Cons and Potential Flaws:
---
Ibanez Tube Screamer TS808 Overdrive Pedal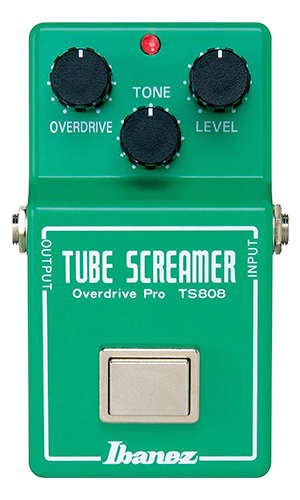 Blues guitarists and hardcore rockers will love this pedal, for it provides them with the full, strong, yet warm overdrive sound that so thoroughly permeates their respective music styles. The stompbox is mid-boosted, but don't worry – the overall quality of your music will not be dramatically influenced. That way, all the original tones you play, and your own skill, are brought to the fore.
This overdrive pedal comes with only the basic tone settings – the level, tone, and overdrive knobs – which makes it pretty beginner friendly. However, it is a bit lacking when it comes to versatility.
It makes up through its ability to be paired up with another with another stompbox and work in unison with it to amplify and improve its sound.
Beloved among the veteran players and attractive to beginners, Ibanez TS808 is a pedal worthy of your attention!
Pros and Highlights:
Affordable price
Sturdy construction – shock resistant and stable construction make this device suitable for longer tours
Can be used by both professionals and beginners – the basic controls will be helpful to beginners, and the professionals will be able to use it to the maximum when connecting it with another stompbox.
Cons and Potential Flaws:
Not overly versatile – much like SD-1, it offers only the most basic functions, but it is seemingly lacking in versatility when compared to this device.
---
JHS Moonshine Overdrive Pedal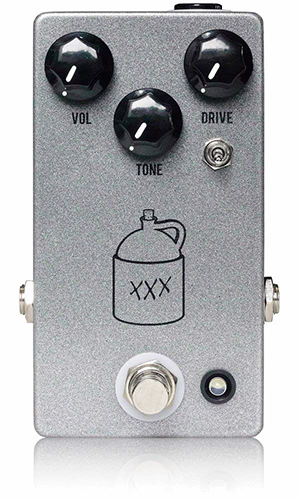 Yet another hand-made item on our list, JHS Moonshine overdrive pedal is a real treat. It has a very unique overdrive, which allows it to produce Tube Screamer sounds, and boasts with high levels of versatility, which is always a plus. And all of this is wrapped up in a stylish little casing.
It has only three control knobs which tune volume, drive and tone. This simplifies the user experience, but the presence of the "proof" toggle, which enables some heavier modifications, does not lessen the versatility of the device. Essentially, whichever overdrive you plan on achieving, this pedal can help you do it.
High sound quality, smooth output, and the ability to be either used alone or in a multi-pedal system make this pedal a force to be reckoned with, and an item more than worth buying.
Pros and Highlights:
High-quality manufacture – a hand-made device is guaranteed to be constructed with care to even the most minute of details
Equipped with internal 9-18V charge pump – this enables the significant increase in your tonal output. Further modifications are available through control knobs
Unique mid heavy tone frequencies
Cons and Potential Flaws:
---
Electro-Harmonix English Muff'n Tube Overdrive Pedal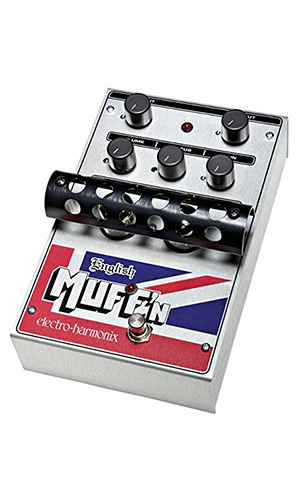 Electro-Harmonix English Muff'n Tube overdrive pedal is a high-end pedal produced by a company with a long and successful history. As is often the case, great performance levels also mean a bit higher price, as is the case here.
The tones produced by this pedal are inspired by those of the famous British amps, and in order for them to be so successfully reproduced, this pedal uses vacuum tubes. This pedal is equipped with knobs for High, Mid, and Low tone control, and with knobs for Gain and Volume control.
As for sound quality, this pedal will give you the rich and powerful sound and tube distortion. It doesn't matter what music genre you're playing: whether it's rock', jazz, or blues, this pedal has you covered in every way. All you need to do is plug in and play your music!
Pros and Highlights:
High-quality casing and chassis
Superior sound quality – the use of vacuum tubes enhances the overall sound quality of the device. That's why the sound is so similar to that of the famous British guitar amplifiers
True Bypass – The True Bypass is provided through a special mechanical relay
True tube overdrive – dual vacuum preamp is what gives this device the true tube overdrive and enables the player to experiment with various tube sounds
2 Electro-Harmonix 12AY7 tubes
Cons and Potential Flaws:
---
Boss SD-1 Super Overdrive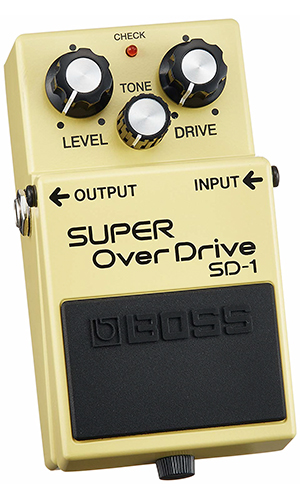 Boss SD-1 Super Overdrive pedal offers a high level of reliability, simplicity in use, and affordable price, and the quality of tone is very high. It is easy to acquire, highly reliable, and due to its sturdy casing, it is not that easy to damage. You can power it either via a 9V battery or by using your standard power adapter.
Don't be fooled by the simplicity of this pedal. It may offer only basic functions when it comes to sound control, but it is strong enough to provide some more than welcome power up for the more powerful distortion boxes or amps cracked up to 11. Blues guitarists, jazz guitarists, and classical rock players will definitely enjoy it, and even heavy metal fans can have a good time with it!
As we have mentioned, Boss SD-1 Super Overdrive allows you to tune only the most basic settings: the gain, the level of output, and of course, the tone. But if you're a beginner, this may be just the thing you need.
Pros and highlights:
Affordable price – you'll get a reliable device for just a bit under 50$;
High precision tuning knobs – the knobs of this pedal are very precise, which adds to the overall sound quality;
Sturdy and compact build – this device is not that easy to break, so it's perfect for spending long periods of time on the road;
Sound similar to tube amps in overdrive – drive level depends on the way you pick your guitar, and that is the way of how tube overdrive works;
Very beginner-friendly – due to overall simplicity of this item and the basic, yet precise controls, this device is perfectly suitable for all who are just starting to learn how to use overdrive pedals.
Cons and Potential Flaws:
The 9V battery not included within the price of the device – this item is sold separately;
No advanced settings – this device is equipped with only the most basic of settings.
---
TC Electronic MojoMojo Overdrive Pedal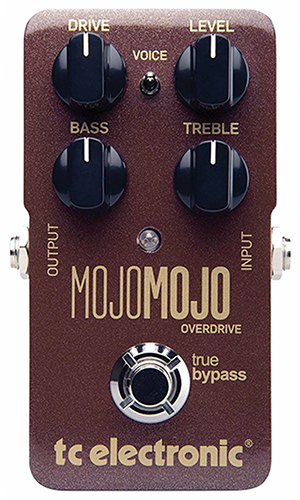 TC Electronic's MojoMojo overdrive pedal is probably the cheapest pedal on this list, but it certainly provides some impressive possibilities typically not included in the models of this price range.
Physically speaking, the reddish metal casing is very pleasing to the eye, but it's the sturdiness that really matters here. Take it on the road and don't worry, this pedal is not easy to damage.
As we've said, MojoMojo is provided with some pretty interesting features. Unlike the SD-1, this pedal has not only the three basic setting knobs for overdrive, tone, and level, but it also has a knob for controlling the higher treble frequencies. It is also equipped with a voicing switch which can give you a strong mid-range boost.
When it comes to quality of sound, this pedal is more than remarkable, especially if we consider its price. But if you want to really see what this pedal can offer, consider hooking it up with a natural amp. That way you'll get a nice, clean, organic sound, and with a pretty strong kick!
Pros and Highlights:
Extremely affordable
True Bypass – achieved through one input and one output jack. Thus, the loss of tone is completely eliminated
Higher levels of sound tuning – 4 control knobs and a voicing switch enable more variety of sound modification, which means that you can experiment more with this pedal
Good for intermediate-level guitar players – the more experienced players will easily adapt, but it may prove a welcome challenge for those who have just mastered the basics of using an overdrive pedal
High-quality sturdy build
Cons and Potential Flaws:
---
What We Recommend and Why
Taking into consideration all the pros and cons of the pedals listed above, we believe that Wampler Dual Fusion Tom Quayle Signature Overdrive Guitar Pedal is the best choice here. It presents a great balance in the price-performance ratio, offering high levels of versatility and sound, and highly satisfying user experience.
Conclusion
If we observe the price-performance ration, we may say with certainty that these are some of the finest overdrive pedals on the market. Consider our list and our recommended item carefully, and purchase the one that suits your needs the best. And of course, enjoy your music!