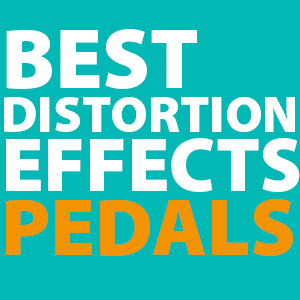 Picking the best distortion pedal isn't easy because there are so many different effects pedals out there. Each has a slightly different tone, set of controls, and price tag. That's why I made this review.
Some music genres, like metal and rock 'n' roll, just wouldn't be the same without distortion. It has always been an essential part of powerful solos and strong riffs. That is why a guitar amplifier is just not enough.
Finding the perfect distortion pedal to suit all your needs and to fit perfectly into your style is a tricky job, even for a pro, and not to mention beginners. This is because there are millions of pedals out there, all claiming to be "the best", but let's be honest – being "the best" is mostly the matter of preference and not the actual bestness.
Besides, there are different types of distortions specific to every genre of music. Metal music likes "compressed" distortion, blues likes when it is "wide open", there are some preamp boxes for studio work, and experimental music is a thing of its own.
This is why we have done the research to help you find the one that will be just the right thing for you.
Here are top 6 distortion guitar pedals that we liked the most. Read on to find out.
---
Top 6 Distortion Guitar Effects Pedals
Here is a list of the best distortion guitar effects pedals out there right now.
---
MXR M75 Super Badass Distortion Pedal
Specs, features, and benefits
One of the best things about MXR M75 is that it features three amazing effects that can help you sculpt the sound to your very liking – treble, bass, and mid. With it, you will be able to achieve anything you want and go versatile and creative.
The pedal looks very simple and it comes with only three knobs that you can control – the aforementioned treble, bass, and mid. It leaves plenty of headroom for all those who need it.
With it, you will get 100% analog distortion and highly responsive controls that will make any sound exquisite – from low gain overdrive to modern metal distortion.
Pros and Highlights
Highly responsive
Bass, Mid, Treble
Modern distortion tones
Cons and Potential Flaws
Potential problems with squealing sounds if the effect chain is comprised of numerous pedals
Video Demo Review
Bottom line
All in all, this amazing piece of music equipment is all that you will ever need no matter if you are into 70's low gain overdrive or modern metal wailing. Three extraordinary features that this pedal brings – bass, treble, and mid, will let you polish your sound just as you want it.
---
TC Electronic Dark Matter Distortion Effect Pedal
Specs, features, and benefits

If you are looking for a pedal that will let you be in complete control over your sound – this is the one. Dark Matter will let you control not only gain and level, but treble and bass as well. However you set the knobs, you will get the clear and natural sound that will sweep you away.
Dark Matter is the perfect pedal for old school distortion tones, ranging for Hendrix to Electric Wizard. It might not be as smooth and elegant as some pedals, but it sure makes your picks, palm mutes, and other actions really stand out.
This pedal is something in between of light distortion and heavy drive, with a little bit bigger incline towards classic stuff.
With voice switch, however, you will get a bit of that modern sound that you are looking for.
Pros and Highlights
Fantastic for classic rock
Complete control of the sound
Voice switch
Cons and Potential Flaws
Not tight modern rock distortion
Video Demo Review
Bottom line
Dark Matter pedal is perfect for both mellow classic crunch and modern wailing, thanks to the voice switch. With bass, treble, gain, and level, you will be in total control of the sound you get, which will be clear and natural, no matter the setting. It is easy to use, making it perfect for beginners too.
---
Electro-Harmonix Soul Food Distortion/Fuzz/Overdrive Pedal
Specs, features, and benefits
Another fantastic pedal that we chose today is this Soul Food distortion pedal. It is one of those transparent overdrive pedals that emphasize the natural sound of your guitar and amplifier, and your talents with them, instead of coloring and coating the sound.
What is more important is that any change made on the pedal is instantly noticeable in the sound so there are no unwanted delays with this one.
And for the constant battle between true bypass and buffering, this pedal offers both options – buffered bypass and true bypass.
Pros and Highlights
Transparent overdrive
Highly responsive
True bypass and buffered bypass
Cons and Potential Flaws
Video Demo Review
Bottom line
With the right settings on Soul Food, you will get a pedal of extremely high quality for a fairly low price. The sound that you will get will be clear and transparent with no additional coating, coloring, and layering. It has plenty of headroom and is pretty easy to use, which makes it perfect for everyone.
---
Pro Co RAT2 Distortion Pedal
Specs, features, and benefits

Are you looking for that honest rock 'n' roll crush? You will certainly get that with this Pro Co RAT2 pedal.
Even though it has only the basic options, it still gives you versatility and enough room for experimenting at whatever style you choose. There are only three knobs on this pedal, but they are all very responsive, leaving no place for the delay. Anything from light fuzzing to hard rock and metal crunches is possible with this one.
This pedal is made to be the primary one and to lead the gig. However perfect it is for solos, it can't get any better on rhythm as well.
Anything from blues to metal is this pedal's main thing!
Pros and Highlights
Perfect spot between clean sound and overdrive
Clear rhythm tones
Wide range of distortion options
Cons and Potential Flaws
Some settings may sound "cloudy" at extended range guitars
Video Demo Review
Bottom line
When we combine all of the facts, we may conclude that this prime pedal is perfect for combining effects and experimenting with different music genres. No matter if you intend to use it as a solo leader or as a supporting rhythm, it will give you what you want.
---
BOSS DS-1 Distortion Pedal
Specs, features, and benefits

No matter what the dynamics of your playing style, this classic distortion pedal will be able to follow. With over 30 years of rising popularity, we can safely call this one a modern classic.
You will have complete command over the sound and amount of signal that is being processed with gain and level knobs.
Tone, Level, and Distortion are all of the controls that you need, and no matter how you set them, you will get a stable and bold tone. Playing with these, you can get really creative and dive into the world of music experiments.
It is also safe to say that this is the most suitable one for beginners that we mentioned so far. Maybe there are a bit fewer details with this one, but there is certainly more sound, and it can cover up the mistakes perfectly, making them sound like they were meant to.
Even more, it can help you fill bold and courageous.
Pros and Highlights
High gain tones
Smooth distortion
Practical for beginners
Cons and Potential Flaws
Thin, one dimensional sound – better for soft covers
Video Demo Review
Bottom line
With all of the specifications and features combined, this pedal makes for one of the best pedals of all times. This time timeless classic is perfect for beginners who want to gain a bit of courage. Tone, level, and distortion let you play with them and experiment a little, but no matter what you try, you will surely get the bold sound that will sweep you away.
---
EarthQuaker Devices Hoof Germanium/Silicon Hybrid Fuzz Guitar Effects Pedal
Specs, features, and benefits

Another piece of giants on the market, EarthQuaker Devices bring something that you will love.
This pedal has wide range gain that can cover just about anything – from amp-like overdrive to monstrous fuzz madness.
With tone, shift, level, and fuzz you will get a lot of tonal shaping options which will let you go really creative. Shift control can also eliminate any unwanted muddiness on the bass, so you are good to go.
Pros and Highlights
Wide range gain
Smooth, natural and harmonically rich sustain
Clarity and distinctiveness of signal
Cons and Potential Flaws
Potential problems with delay
Video Demo Review
Bottom line
For anyone who likes to experiment, this is the perfect thing. With four knobs that all have effect on one another, you will get plenty of room for trying out your skills. But no matter how you set it, you will surely have a clear signal.
---
What I Recommend and Why
And now, to everyone's favorite part! Our top recommendation for today would definitely be MXR M75 Super Badass Distortion. The reason behind it is rather simple – its overall value is immense, and not even to compare it with the quality that you will surely get.
MXR is a giant in the music industry and the whole music development wouldn't be the same without MXR in it.
This pedal is perfect if you want to practice on it, or if you are ready to start gigging. No matter what you choose –you can't make a mistake with this one!
---
Final Word
Finding the perfect distortion pedal can be very hard, especially with all those pedals on the market claiming to be the best.
However, there were some pedals that really caught our eye (or ear, to be precise), so we decided to help you with your decision a little.
Hopefully, you did manage to find what you were looking for among these six pedals that we have picked. If not, we surely hope that we gave you some basics and ideas on what you would like to get and in what direction to look.
Enjoy your new pedal and rock on!
---
Disagree with My List?
You have a pedal that you think should be on this list? Let me know in the comments and I just might add it. 🙂