The most useful and informative electric guitar setup guide available!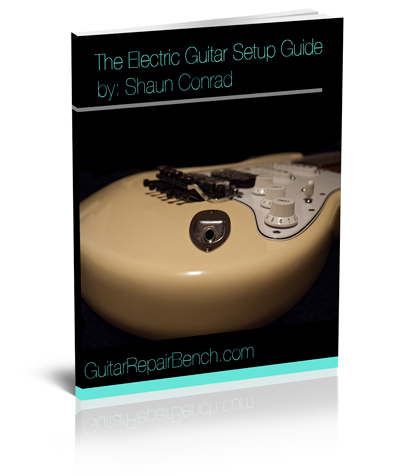 I get tons of emails every week about setup questions on specific guitars. Like:
How do I straighten my neck on my Telecaster?
How do I intonate my Les Paul?
The nut on my Strat is worn down too low. Now what?
My SG won't stop buzzing!
How do I setup my Floyd Rose bridge and keep it in tune?
Learn from 100's of Hi-Res repair pictures and examples to follow!
E-book Coming Soon!
---
Setting up your guitar can be complicated if you don't know where to start. I believe that every guitarist should know how to setup his guitar or at least know how to maintain it. The problem is most books give generic advice with very little specific explanation and pictures.
That is why I have decided to write this ebook. All guitar repair books that I have ever read fail in a few areas. The main areas are layout, organization, and detail. Most guitar repair books have generic chapters that discuss repairs in broad detail like "straightening your truss-rod" and "how to remove the strings." The main two problems with this layout is that you have to flip back and forth all over the book to setup your own guitar. First you have to go to the truss rod page then the strings page. And when you finally look up all the right pages, most books don't go into near enough detail in each repair section anyway.
My guitar repair guide e-book is organized and laid out completely different. In each chapter, I walk you step-by-step through the entire setup process of a guitar. I cover just about every electric guitar setup from start to finish including Stratocaster, Telecaster, Les Paul, SG, Ibanez, Gretsch, PRS, and just about everything else. This gives you a full picture of your guitar's setup and how each setup process affects the others without having to look every step up in the index. With this book, you will not only learn how to setup your and all other electric guitars, you will also understand guitars and be able to diagnosis problems on other guitars you have never even seen before.
It's so much easier to learn how to setup your guitar the right way. Here are some examples of what I cover for each specific guitar:
---
Topics you will learn on every guitar:
Removing the strings
Guitar cleaning
Adjusting the truss rod
Checking the String Radius
Adjusting the Action
Adjusting the intonation
Polishing frets
Cleaning pots and electronics
Setting Pickup height
Advanced topics
Making a Guitar Nut
Slotting a Guitar Nut
Fret Repair
Soldering Guitar Electronics
Adjusting String Radius on a Floyd Rose
And much more…
---
I not only explain the process of setting up different guitars, I give you tips and tricks along the way with hundreds of full color, high res pictures.
Don't settle with having your guitar play poorly or spend $50-$100 to have it setup. Learn how to setup your guitar today with my ebook! It will be the best investment you've ever made for your guitars–not to mention how much money you will save setting up your own guitars!
My ebook is coming soon, so stay tuned!
---