Here are some extremely informative books on every acoustic guitar building subject from tap-tuning to woodworking technique. I also have some books about building Martin-kit guitars.
Books on Building Steel String Acoustic Guitars.
A Guitar Maker's Manual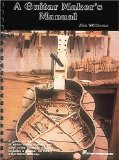 Written by one of Australia's foremost luthiers, this manual is a straightforward, profusely illustrated guide to constructing nylon-string classical and steel-string guitars.
Includes a useful section on creating the jigs necessary to make the job easier and more accurate, along with full size template diagrams to assist in cutting out and marking the body shape and soundboard bracing patterns. A Guitar Maker's Manual lists all of the materials needed, where to get them and what problems to look out for during the construction.
Buy This Book on Amazon!
---
Guitarmaking:
Tradition and Technology: A Complete Reference for the Design & Construction of the Steel-String Folk Guitar & the Classical Guitar (Guitar Reference)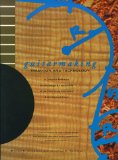 Hailed by Guitar Player magazine as "perhaps the finest book on guitars ever produced," and by Booklist as "a Rolls Royce of construction guidebooks," this impressive volume is the first book of its kind to describe in depth how both steel-string and classical guitars are actually designed and built.
Over 450 photographs, drawings, and diagrams reveal in exquisite detail the hows, whys, and how-to's of the traditional craft of guitarmaking, all accompanied by fascinating historical and technical notes.
A comprehensive bibliography; a list of tools, materials, and supply sources; and a full index complete this uniquely authoritative reference — and essential acquisition — for guitar and craft enthusiasts, woodworkers, and students of instrument making everywhere.
Buy This Book on Amazon!
---
The Luthier's Handbook:
A Guide to Building Great Tone in Acoustic Stringed Instruments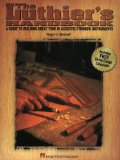 An essential item for the instrument builder, The Luthier's Handbook explores the secrets and science behind making good-sounding acoustic stringed instruments. Renowned author Roger H. Siminoff brings to the table more than four decades of luthiery experience and shares the time-tested philosophies, tips and technology of the craft.
As the ideal complement to other books on building instruments, this text describes the structural and acoustical attributes of air chambers; what to listen for when tap-tuning; selecting a good piece of wood; placement of the braces and tone bars and how to tune them; how to select the right strings; what to consider in bridge design concepts; and much more. Includes a free String Gauge Calculator for determining the right set of strings.
Buy This Book on Amazon!
---
Build Your Own Acoustic Guitar:
Complete Instructions and Full-Size Plans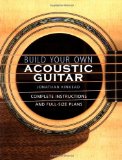 Every guitarist dreams of owning a handmade instrument, but for most, the cost is likely to be prohibitive. The alternative – building your own fine guitar – is not as difficult as you might imagine, given some skill, patience, and the expert guidance of a master luthier. Every step of construction is fully covered, from choice, selection, and preparation of woods, to consideration of size, bracing, and tonal qualities.
Each step of the building sequence is clearly photographed in color, with variations to the standard design shown to enable you to personalize your instrument as you make it. Briston, England-based Jonathan Kinkead has been building guitars for nearly 30 years. His craft is born out of experience and intuition rather than a strict following of technical detail. The resulting beauty of form and distinctive tone have earned him his reputation as one of the world's most respected independent luthiers.
Buy This Book on Amazon!
---
The Guitar Maker's Workshop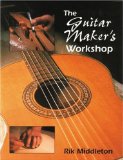 Intended as a beginner's guide for experienced woodworkers interested in making a guitar, this book assumes a fairly complete knowledge of woodworking tools and techniques and also an intermediate level of skill in finishing and detail work. Long-time luthier Middleton uses the old European approach to making a stringed instrument, including carving, gluing, bracing, and finishing, which he defends as desirable in handmade instruments,.
But instrument-making supply companies now offer a variety of purpose-built tools and woodworking supplies that greatly simplify the old-fashioned process. To ignore these tools and supplies makes it much more difficult for a beginner to complete such a project. The book is handsomely produced, with detailed photos and clearly written text.
Buy This Book on Amazon!
---
Step-by-Step Guitar Making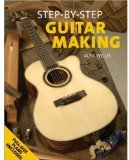 With basic woodworking skills, a modest work space, and only a few special tools, even an amateur can make an instrument fit for the concert platform with this guide. Fully illustrated instructions guide the builder through the entire creative process from choosing materials for the guitar to stringing and setting up. The guitar created in this book is a steel-stringed cutaway orchestra model with 14 frets to the body joint.
This pattern is ideal for the finger style player, providing excellent projection in bass, middle, and treble ranges. Plans are included for the entire instrument as well as detailed drawings of individual parts. This manual comes complete with instructions on how to tune the soundboard, place the frets accurately, and adjust the action for comfortable playing.
Buy This Book on Amazon!
---
Hand Made, Hand Played: The Art & Craft of Contemporary Guitars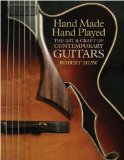 Feast your eyes on more than 300 of today's most creative, imaginative, and gorgeous hand-made guitars–all illustrated in full color and featuring information about the innovative artisans who created them. Meet guitar-making legends, such as C.F. Martin, Les Paul, and Leo Fender, who revolutionized the instrument's design. Discover why the past 25 years have seen an explosion of craftspeople who build guitars by hand, employing an attention to detail factories can't afford and using higher quality materials and more technical skill than in any previous era.
Explore the various guitar styles used in a range of musical traditions, from blues to classical. Detailed information about each guitar's specifications, plus personal statements and anecdotes from the artisans about their work and techniques complete each entry. Rounding out the book is a Web directory and an index of luthiers. Players, craftspeople, collectors, and those who are simply fans of this popular instrument will find this volume irresistible!
Buy This Book on Amazon!
---
Art of Tap Tuning How to Build Great Sound into Instruments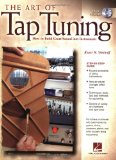 This book explains the secret ingredients needed to obtain the very best tonal qualities when building acoustic string instruments. It includes an exploration of the tools and equipment needed, the methods to excite tones in the instrument, how to make the necessary changes, and how to achieve consistency and repeatability.
The text focuses on tap tuning as it relates to mandolins, guitars, banjos, violins, ukuleles, dulcimers, pianos, and more. The DVD includes demonstrations of the acoustic phenomena described in the text.
Buy This Book on Amazon!
---
Building a Selmer Maccaferri Guitar:
A Step-by-step Guide to Building a Laminated Body Slemer-maccaferri Guitar
Buy This Book on Amazon!
---
Complete Guide to Building Kit Acoustic Guitars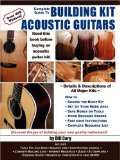 You can build a guitar, and a quality kit is the best way to start. This large-format, 240-page book, with over 450 photos, details how and where to buy the kit that fits your skills and desires. Complete reviews of guitar kits built by the author – from Martin, Stewmac, LMI, Blues Creek Guitars, KMG and others – are included. Also included are references to the author's helpful website: www.KitGuitarManuals.com, where more helpful materials are offered.
Having built ten guitars from kits, but remembering what he did not know when he started, Bill is particularly qualified to present this information. And when you finish the guitar? You'll have an instrument to be proud of. "Of the hundreds of kit builders I have corresponded with," the author says, "every one has been thrilled! People absolutely love their new guitars." If you're building a guitar kit, buy this book! It will save you much more than its price in money, time and trouble.
Buy This Book on Amazon!
---
Building Martin-style Acoustic Guitar Kits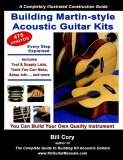 This is the manual that Martin kit builders need! The Martin Guitar Company, C.F. Martin & Co., Inc., has made great American guitars for 175 years. They also sell acoustic guitar kits that any guitar enthusiast can build. These kits aren't exactly ""Glue 'n' Play,"" but they don't require a degree in woodworking, either! The only problem with Martin kits has been the lack of a complete construction manual.
The lack of an instruction manual has created some problems for novice builders, because Martin kits are different from others. But now, there is a dedicated manual. Guitar builder Bill Cory has built four Martin-style kits (out of thirteen acoustic kits, total), and his new manual completely describes and illustrates the entire process in step-by-step photos and text. It's the best investment you will make other than the kit itself.
Buy This Book on Amazon!
---
Steel-String Guitar Construction: Acoustic Six-String, Twelve-String, and Arched-Top Guitars
Buy This Book on Amazon!
---
Guitar Repair Bench E-Books
Guitar Building and Repair Books: