Acoustic guitars need care and maintenance just like any instrument. It is important that any repair educate himself on general repairs and maintenance issues. Here are some sweet books that I have found about repairing, maintaining, and setting up acoustic guitars.
Guitar Repair: A Manual of Repair for Guitars and Fretted Instruments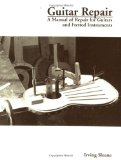 Covering the full range of acoustic, or hollow-body, guitars, as well as applications to the mandolin, ukulele, banjo, and lute, renowned craftsman Sloane has created a long-awaited book that makes expert repair techniques accessible to both amateur woodworkers and experienced builders.
His comprehensive probelm-solving includes: closing cracks, patching fractures, adjusting poor action, eliminating buzzing, fixing loose braces, repairing bellying tops and neck warps, replacement of the bridge and pick guard, refretting and refinishing, and restoring antique instruments. Excellent photos and diagrams (125!) accompany succinct directions and a master's own tips to make this the essential guide for anyone who owns, plays, makes, or sells guitars, as well as for the woodworkers who wants to construct musical instruments.
Buy This Book on Amazon!
---
Martin Guitars: A Technical Reference Book 2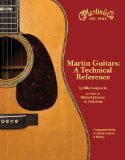 Part of a two book set, this book provides information on guitar bodies, necks, headstocks, bridges, woods, as well as other chapters covering Models by Style, the Custom Shop and limited editions. All the lesser known instruments like archtops, electrics, mandolins and ukuleles are included as well, all very collectible. The book ends with exhaustive appendices covering production numbers, retail prices, and instrument specifications.
Since Martin guitars are the world's most collectible acoustic guitar line, this book will undoubtedly be the most sought after reference book by any collector or owner of a Martin. If you own a Martin, you own a piece of history and this book will help you discover when it was made and how. This authorized book will finally answer any questions on the stories behind some of the rarest instruments.
Buy This Book on Amazon!
---
The Acoustic Guitar: Adjustment, Care, Maintenance and Repair (Volume I)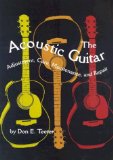 A good guitar repairman is hard to find, and when found, a long waiting list seems inevitable. Those who have confronted this problem may now turn to Don E. Teeter's encyclopedic treatment of guitar adjustment, maintenance, and repair. Profusely illustrated with line drawings and photographs and written in a clear and straightforward style, this book takes the reader on a guided tour of the acoustic guitar's various parts and their functions. Teeter provides detailed instructions for disassembling and assembling guitars, describes the tools and materials used in their repair, and gives step-by-step procedures for major and minor repairs, inlay work, and refinishing.
The book is not just for the experts in guitar repair. As Teeter notes, "Quite a few of the techniques listed in this manual, such as adjusting tension rods, adjusting string heights (action), repairing minor cracks, setting movable bridges for proper intonation (note accuracy), dressing and polishing frets, gluing loose bridges, changing machine heads and of course, the proper care and maintenance of the instruments, are within the capabilities of the average amateur with limited tools."
Buy This Book on Amazon!
---
Acoustic Guitar Owner's Manual Book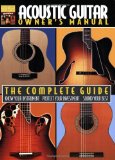 Acoustic guitarists can now better understand their instruments, preserve and protect their value, and get the sounds they really want, thanks to this new book from the experts at Acoustic Guitar magazine. This indispensable guide begins by acquainting players with their instruments and laying to rest some pervasive guitar myths, then proceeds through various aspects of basic care, setup, common repairs, and pickup installation.
Whether it's cleaning and polishing a beloved guitar, protecting it from theft or changes in humidity, selecting a case, or performing diagnostics, readers will become more savvy acoustic guitar owners and repair-shop customers and can forego dubious advice from well-meaning friends and anonymous "experts" on the Web. Includes a primer and glossary of terms.
---
The Acoustic Guitar Guide: Everything You Need to Know to Buy and Maintain a New or Used Guitar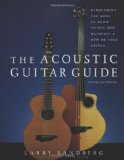 This book will help all guitar players make better friends with their present guitar or decide on features to look for in a new one.
They will learn about the differences in guitar woods (and how they sound), simple guitar maintenance, how to choose an instrument for their style of playing, what to expect from a music dealer, and the mystique of collectible guitars.
This new edition includes more details on amplifying acoustic guitars, and a guide to guitar companies' Web sites.
---
Guitar Repair Bench E-Books
Guitar Building and Repair Books: