How to adjust the Truss Rod
in your Acoustic Guitar.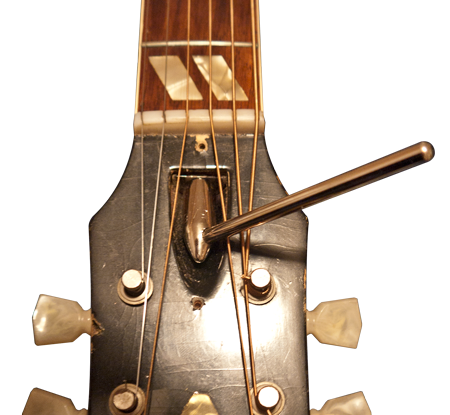 Before we adjust the truss rod, we should take a look at what a truss rod is. A truss rod, essentially, is a metal rod that is inserted into a channel or cavity in the neck to help with support and straightness. Truss rods stiffen the neck and help eliminate relief and back-bow in the neck. There have been many different styles of truss rods since they were first invented. The early truss rods were not adjustable.
Early Martin guitars had a variety of non-adjustable truss rods. These truss rods were often a T-bar or piece of square tubing simply glued into the neck. The primary purpose for these truss rods was to stabilize the neck and keep it from bowing. If the neck did bow because of extreme weather conditions or faulty craftsmanship, there was nothing you could do to fix the neck short of tearing it apart, straightening the neck, and inserting a new truss rod. Martin used these non-adjustable truss rods up until 1984. For more information about the history of Martin guitar truss rods, please visit the Martin truss rod page. "Modern" truss rods are adjustable. This means they not only help reinforce the neck but also help bend the neck back into a straight position.
Today, almost all guitars are fitted with adjustable truss rods. Adjustable truss rods can be adjusted using an allen wrench, screw driver, or nut driver in either the headstock or the heel of the neck. Acoustic guitar truss rods come in two main styles: single action or one-way truss rods and dual action or two-way truss rods.
In short, single action truss rods bend the neck one way by tightening the truss rod. Loosening a single action truss will not "bend" the neck in the other direction; it simply relieves the pressure from the truss rod and allows the string tension to bend the neck in the opposite direction.
A dual action truss rod, on the other hand, does bend the neck in both directions. Tightening or loosening a dual action truss rod will bend cause the truss rod to bend in either direction. For more detailed information about how truss rods work, please visit the truss rod page.