Electric guitar frets can be complicated and time consuming to work on for a beginning guitar repairman or luthier. You can also do quite a bit of damage to your fretboard and guitar by improperly removing and installing frets. I have written several instructional articles covering every main topic of electric guitar fret repair from installing frets to removing frets.
Please scroll down to view my electric guitar fret repair articles. If you don't see an article on a particular fret repair, please email me with a suggestion. I would be happy to write another article about it.
---
Guitar Fret Repair Tools You'll Need
Before we get started talking about the most common fret repairs that you'll run into, let's take a look at a few of the tools that you will need to complete these repairs. Here's a list of some of the most common guitar fretting tools.
---
Guitar Fret Repair Kit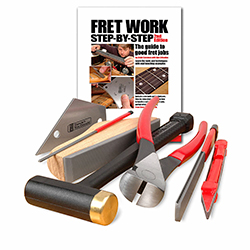 Here is a kit with most of the common tools that you'll need to do fret work on your guitar. It even comes with a nice instructional guitar on how to diagnosis guitar problems and fix them.
See Current Price on Amazon!
---
Guitar Fret Leveling Beams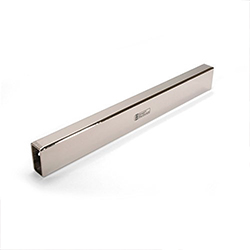 Leveling guitar frets is one of the most important steps in the guitar setup. With uneven frets, your guitar will likely buzz and sound horrible. This tool allows you to easily sand all the frets level in just a few strokes.
See Current Price on Amazon!
---
Fret Wire Bender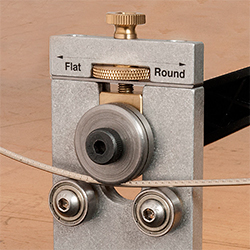 All guitars have some type of radius on the fretboard. In order to accurately replace a guitar fret, you will need to match that radius with the frets. This handy bender lets you evenly bend the fret wire into whatever radius you need.
See Current Price on Amazon!
---
Fret Tang Nippers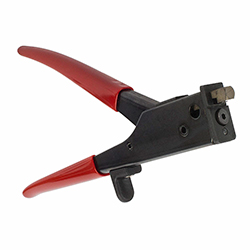 Fret tang nippers are a great invention that helps you remove the edge of the fret tang when you are replacing frets on a guitar with a bound fretboard.
---
Fret Files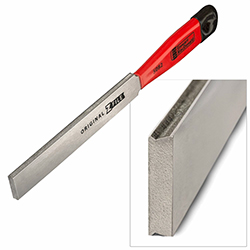 You will need a number of different files in order to do fret repair. Each file has a slightly different job and is necessary for doing any kind of fret replacement. Here's a list of the files you will most likely need.
---
Fret Rocker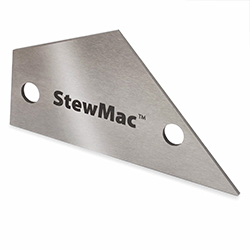 The fret rocker is a sweet little tool that helps you identify which frets are even. This mini straight edge is placed across three or more frets to see which ones are sticking up. If the straight edge rocks, you found the culprit. 🙂
See Current Price on Amazon!
---
Full List of Fret Repair Tools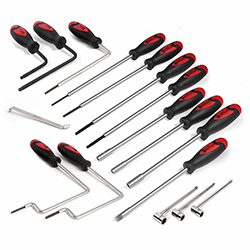 These are just the common tools that you will need to do most repairs. There are a number of different fret repair tools that you will need that I don't have listed above. Here is a full list of all the guitar fret repair tools you should get.
---
How to Choose the Right Electric Guitar Fret Wire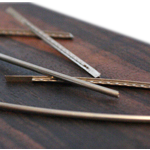 How to Choose the Right Electric Guitar Fret Wire – Electric guitar fret wire can come in all different shapes and sizes. There is almost an infinite number of different sized fret wire. Fret crowns and tangs can be wider or taller. How are you supposed to choose what fret wire to install in your guitar? By and large, fret wire depends on your playing style. Many metal or lead players prefer the larger, "jumbo" frets, while jazz guitarists prefer…
---
How to Bend Electric Guitar Frets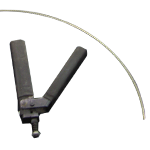 How to Bend Electric Guitar Frets – Bending fretwire is simple as long as you have the right tools. Fretwire usually comes in 1 or 2 foot straight sections. You can also buy precut fretwire, but it is more expensive. The 2 foot straight sections will need to be bent to fit the radius of your fretboard with a fretwire bender. I would suggest…
---
How to Remove Electric Guitar Frets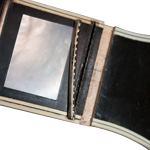 How to Remove Electric Guitar Frets – If your guitar is buzzing because your frets are worn down or seated improperly, you may need to replace your frets. Removing electric guitar frets can be tricky if you have never done this before. Ripping the frets out of the fretboard with a pair of pliers can chip or even crack you fretboard. You will want to remove the frets properly, so you don't damage the fretboard in the process…
---
How to Install Frets on an Electric Guitar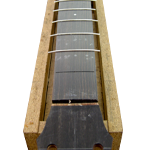 How to Install Frets on an Electric Guitar – After you have removed the frets in your electric guitar fretboard, you will need to install some new frets. Installing frets is more difficult in many different ways than removing frets. If the frets are not installed properly, the electric guitar can buzz and even have intonation issues. Most improperly installed frets have to be removed and re-installed. Remember, the frets are the most…
---
How to Level, Crown, and Dress Electric Guitar Frets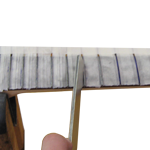 How to Level, Crown, and Dress Electric Guitar Frets – You may have heard a luthier or guitar repairman say, "Your frets need to be dressed." What is a fret dress and how do you dress your frets? Dressing an electric guitar's frets refers to leveling and crowning the frets. After the frets are installed in the fretboard, they need to be leveled in order to play properly. Unleveled frets can cause fret buzz among other problems. The frets also need to be…
---
How to Polish Electric Guitar Frets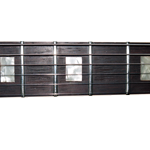 How to Polish Electric Guitar Frets – Over time the sweat from your fingers and the grease and dust from the fretboard show their wear on your frets. You may have noticed your frets turn a darkish, dull color over time. This discoloration is just the nickel fret oxidizing. No one wants to have dirty, dull frets, so how do you polish your frets to make them look new again? It's easy; let's get started…
---
How to Fret an Electric Guitar with an Unbound Fretboard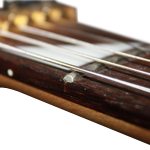 How to Fret an Electric Guitar with an Unbound Fretboard – There are two main styles of electric guitar fretboards: unbound and bound. Unbound fretboards do not have a binding strip around the outside of the fretboard. You can easily tell if your electric guitar does not has binding around the fretboard if you can see the ends of the fret wire inlayed in the fretboard. Unbound fretboards make fret installation and removal much easier…
---
How to Fret an Electric Guitar with a Bound Fretboard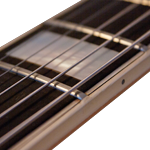 How to Fret an Electric Guitar with a Bound Fretboard – There are two main styles of electric guitar fretboards: bound and unbound. Bound fretboards have a thin strip of wood or plastic that lines the outside of the fretboard. The binding hides the ends of the frets and gives the guitar a cleaner look. Bound fretboards also make repairs like fret installation and removal more difficult. On bound fretboards you must be careful…
---
How to Fret an Electric Guitar with a Maple or Finished Fretboard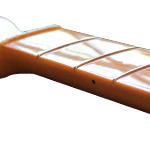 How to Fret an Electric Guitar with a Maple or Finished Fretboard – Maple is a beautiful light colored wood with many unique tonal qualities. Maple fretboards stand out on electric guitar because the majority of fretboards are made out of darker woods like ebony and rosewood. Repairing frets on a maple fretboard is quite different than repairing frets on darker fretboards. Maple fretboards are often finished with a few coats of lacquer…
---
How to Repair Loose Fret Ends on an Electric Guitar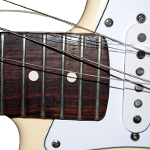 How to Repair Loose Fret Ends on an Electric Guitar – Loose fret ends are exactly what they sound like. The ends of the frets can become loose or dislodged because your guitar has been dropped or smashed. These raised edges can cause buzzing problems as well as problems with sharp fret ends. It is important that you repair these loose fret ends before they cause bigger problems down the road. To check for loose fret ends, simply…
---
Fretting Tools
---
Related articles: