How to adjust the action on an Electric Guitar.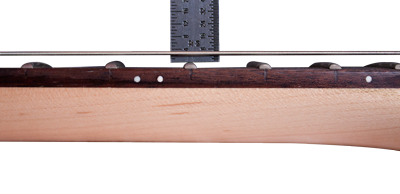 Action - The action on a guitar refers to the height of the strings above the fretboard. Action is usually measured at the 12th fret, but it can also be measured at the 1st fret. "High action" refers to guitar strings that are positioned far above or away from the fretboard. The opposite is true about guitars with strings positioned closer to the fretboard.
Action or string height plays an important role in the playability and comfort of the guitar. Improper action cannot only cause a guitar to be uncomfortable, it can also cause problems with tuning and intonation. Generally, the higher the action on a guitar, the more difficult and uncomfortable the guitar is to play and the lower the action, the easier and more comfortable the guitar is to play. Usually an action setup is a compromise between having the strings high enough not to buzz on the frets and low enough for comfortable playability. If you picked up an expensive guitar in a music store and found that it was uncomfortable to play, it could be that the action is not properly set. This discomfort has nothing to do with the price on the guitar; it is probably just not setup correctly.
You might ask how high should I adjust my action. The truth is that different styles of players tend to gravitate toward different action settings for different reasons. String action and volume are directly related. That is why classical guitar players have higher action than steel string guitar players. Lower action allows guitarists to play faster. That is why metal guitarists will usually have lower action than country guitarists. Essentially, the action on your or anyone else's guitar is pure preference. There is no right or wrong string height, to an extent. Guitars come out of the factory with standard action settings that the manufacturer deems appropriate. Some of these setting are not always the most comfortable for individual players' styles. I will show you how to set your action to an industry standard action setting. Beyond that, it is up to you to fine-tune the action on your guitar to fit your personal style.