Guitar Intonation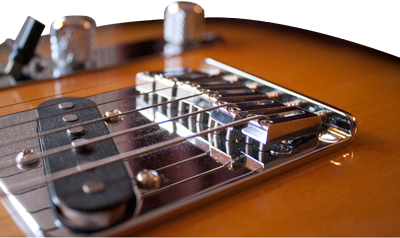 First, before I show you how to set the intonation of your electric guitars, let's talk a little about what intonation is. You may have noticed as you play your guitar higher on the fretboard or scale the guitar starts to sound out of tune. You may be able tune your guitar to make an open G chord sound in tune, but the G chord at the 10th fret sounds out of tune. You may have also noticed that the higher you play on the fretboard the more sharp or flat the notes become. Another symptom of a poorly intonated guitar is that the individual strings may be tuned independently with a tuner so all the strings are in tune. Once the strings are strummed together in a chord, they no longer sound in tune with each other. If these symptoms describe your electric guitar, your intonation is out or not set up properly. I have explained some common causes of poor intonation later in this article.
For simplicity's sake, intonation is the tune or pitch of your collective, guitar strings as you move up the fretboard or scale length. Although it is impossible to perfectly intonate your guitar because of its equal temperament tuning, it is possible to come to a compromise with a proper set up. The intonation can be set on your electric guitar to make the second octave, the 12th fret and above, stay closely in tune with the first octave.
The way to adjust guitar intonation is to shorten or lengthen the scale length of each individual string. Here is a list of guitar intonation topics most people have questions about. After you take a look, let's start adjusting your guitar intonation!