Fret or Fretboard Leveling Bars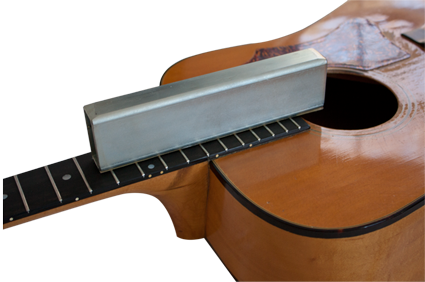 Fret leveling bars are used to plane or level your guitar's fretboard and frets. For most luthiers, purchasing a set of leveling bars can be quite expensive. StewMac charges $130.50 for the full set of three leveling bars. Seeing how expensive these bars are and the quality offer, I decided to manufacture my own. My leveling bars are of better quality than those offered at StewMac or LMI and at a fraction of the price.

The fret leveling bars that I manufacture are made from heavyweight 1 inch x 2 inch rectangular steel tubing. The weight of the steel is not only a sign of its durability, it also gives weight to the sanding process and saves the luthier from exerting his own energy pushing on the bar. Two sides of the leveling bars are precision machined flat within .002". This is really precise considering a human hair is about .003". Also, a bevel is put on both ends of the bars to keep them from hitting the frets, as you glide the bar back and forth. All of my leveling bars are plated with a premium Zinc plating to ensure a shiny, rust free finish. Double stick sand paper can easily be attached to the machined sides for effortless and accurate leveling. I offer three sizes of Fretboard/ fret leveling bars. You can order them below. Please email me if you would like to pay with a method other than paypal.